Customizing The Desktop (Pointers)
Looking for something else?
During a 1,800 user rollout of R5 we used a great article written by Damien
Katz on Notes.net. It explains how to customize an end users welcome page. This
worked very well until we wanted to update current r5 users with the custom
template we created.
Layout of customization.
Create custom Database (MyWelcome.nsf) with a custom frameset on a server which
all end-users have access to. The custom frameset we used points to the users
own mail file, calendar, etc...
In the database properties of MyWelcome.nsf (on your server) make your custom
frameset launch automatically.
Here is where we ran into trouble. Pointing the default bookmark.ntf frameset
(locally resides on everyones machine) at our custom db worked when it replaced
the bookmark.ntf during a fresh install (See posts on copyfile.txt). I did not
work owhen we replaced bookmark.ntf on R5 client already installed.
Solution: enter your custom DB on the server select edit => copy as link =>
database link. Go to bookmark.ntf and paste into the about document. Set
bookmark.ntf database properties to launch 1st doclink in the about document.
Viola!

P.S. whenever replacing bookmark.ntf locally:
1. delete bookmark.ntf and bookmark.nsf.
2. Copy in custom bookmark.ntf.
3. Restart client and bookmark.nsf is rebuilt.

Download this free guide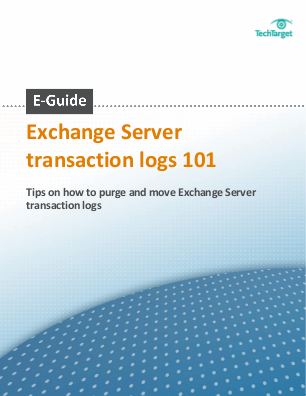 Download this strategic guide on moving Exchange Server transaction logs
Brush up on how log files have changed in Exchange to protect your setup against disaster, discover how to effectively purge transaction logs, and learn how to free up some of the disk space transaction logs have taken up on your drive.
By submitting your email address, you agree to receive emails regarding relevant topic offers from TechTarget and its partners. You can withdraw your consent at any time. Contact TechTarget at 275 Grove Street, Newton, MA.
You also agree that your personal information may be transferred and processed in the United States, and that you have read and agree to the Terms of Use and the Privacy Policy.

Dig Deeper on Domino Resources - Part 3