Detecting a changed field value between document saves
Detecting a changed field value between document saves
Looking for something else?
Sometimes it is useful to know if a key field(s) has changed value during a document edit before you save the document. You may need to perform some additional processing if a field has changed or you need to properagate the changed value to other documents.


Download this free guide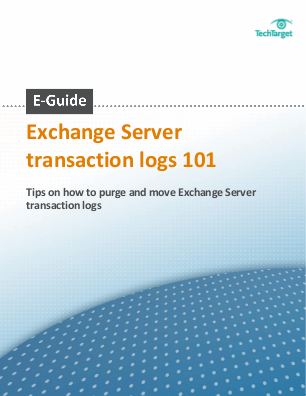 Download this strategic guide on moving Exchange Server transaction logs
Brush up on how log files have changed in Exchange to protect your setup against disaster, discover how to effectively purge transaction logs, and learn how to free up some of the disk space transaction logs have taken up on your drive.
By submitting your email address, you agree to receive emails regarding relevant topic offers from TechTarget and its partners. You can withdraw your consent at any time. Contact TechTarget at 275 Grove Street, Newton, MA.
You also agree that your personal information may be transferred and processed in the United States, and that you have read and agree to the Terms of Use and the Privacy Policy.

Assuming 'DocumentTitle' is the field on the form that we are interested in (we can apply this to more than one field if needed).
Create a hidden, Computed for Display text field at the top of the form, called 'OldDocumentTitle' Formula; @If( @IsNewDoc; DocumentTitle; @IsDocBeingLoaded; DocumentTitle; @IsDocBeingSaved; DocumentTitle; OldDocumentTitle )
Create a second hidden, Computed for Display number field at the top of the form, called 'HasTitleChanged' Formula; OldDocumentTitle != DocumentTitle
(you could also make it case-insensitive by wrapping both sides of the above test in @Lowercase)
this field will be return; true - if the value for 'DocumentTitle' has changed since last save false(0) - if document is un-saved (new) or 'DocumentTitle' has the same value as when last saved
We can then use this in the QuerySave form event;
LotusScript; Call Source.Refresh() ' will kick off validation and refresh computed fields If ( Source.FieldGetText( "HasTitleChanged" ) ) Then 'call a change routine
Dig Deeper on Domino Resources - Part 3