Display Attachments Where You Want
Looking for something else?
Don't you hate when you have attachments on the Web and you have to scroll down to the bottom of the rich text field to get them. With this solution, you can put your attachments in a different field on the form, add an icon to the left of it and make it a live link so that you can either click on the attachment icon at the bottom or the link that is displayed. You can even do more tests on the attachment type to display different icons. Enjoy.

Download this free guide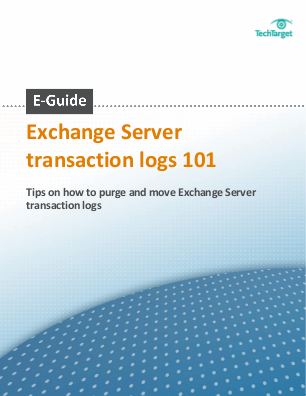 Download this strategic guide on moving Exchange Server transaction logs
Brush up on how log files have changed in Exchange to protect your setup against disaster, discover how to effectively purge transaction logs, and learn how to free up some of the disk space transaction logs have taken up on your drive.
By submitting your email address, you agree to receive emails regarding relevant topic offers from TechTarget and its partners. You can withdraw your consent at any time. Contact TechTarget at 275 Grove Street, Newton, MA.
You also agree that your personal information may be transferred and processed in the United States, and that you have read and agree to the Terms of Use and the Privacy Policy.

Put the following code into a "computed for display" text field.
sView := "WebAllMessages";
@If(@Attachments = 0; @Return(""); "");
sDoc := @Text(@DocumentUniqueID);
sBaseURL := "/" + @ReplaceSubstring(@Subset(@DbName; -1); "\"; "/") + "/" + sView + "/" + sDoc + "/$FILE/";
sImg := "[<img border="0" height="17" width="19" src="/icons/afolder.gif" align=bottom alt="">]";
lsAttFiles1 := @ReplaceSubstring(@AttachmentNames; "%"; "%25");
lsFrom := " " : ";" : "/" : "?" : ":" : "@" : "=" : "&" : "<" : ">" : """ :
"#" : "{" : "}" : "|" : "\" : "^" : "~" : "[" : "]" : "`";
lsTo := "%20" : "%3B" : "%2F" : "%3F" : "%3A" : "%40" : "%3D" : "%26" : "%3C" : "%3E" : "%22" : "%23" : "%7B" : "%7D" : "%7C" : "%5C" : "%5E" : "%7E" : "%5B" : "%5D" : "%60";
lsAttFiles := @ReplaceSubstring(lsAttFiles1; lsFrom; lsTo);
lsLens := (" (" + @Text(@Integer(@AttachmentLengths / 1024); ",")) + "k)";
lsAttNames := @AttachmentNames;
lsAttURLs := (sBaseURL + lsAttFiles) + "?OpenElement";
lsPrefix := ("[<a href="" + lsAttURLs) + "">]" + sImg + " ";
lsRefs := (lsPrefix + lsAttNames) + "[</a>]";
@Implode(lsRefs + lsLens; "[
]")
Dig Deeper on Domino Resources - Part 3