Looking for something else?
This agent creates a new document based off the document whose items you wish to examine. All item names and text values are compiled in a report.

Download this free guide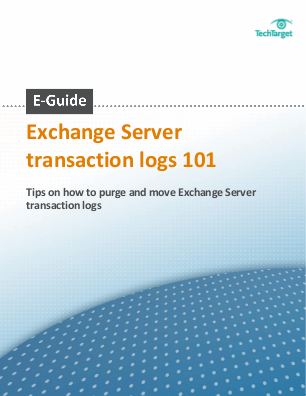 Download this strategic guide on moving Exchange Server transaction logs
Brush up on how log files have changed in Exchange to protect your setup against disaster, discover how to effectively purge transaction logs, and learn how to free up some of the disk space transaction logs have taken up on your drive.
By submitting your email address, you agree to receive emails regarding relevant topic offers from TechTarget and its partners. You can withdraw your consent at any time. Contact TechTarget at 275 Grove Street, Newton, MA.
You also agree that your personal information may be transferred and processed in the United States, and that you have read and agree to the Terms of Use and the Privacy Policy.

It is coded as an agent to work with your mail d.b. and triggered off selected documents in a view. The report document is then placed in your inbox. You can tweek a few lines and use the code in any d.b. you wish.

Code: Sub Initialize 
        Dim session As New NotesSession 
        Dim db As NotesDatabase 
        Dim dc As NotesDocumentCollection 
        Dim doc As NotesDocument 
        Dim testdoc As NotesDocument 
        Dim Body As NotesRichTextItem 
        Dim tempRTitem As NotesRichTextItem 
        Dim getItem As NotesItem 
        Dim theSub As String 
        Dim itemname As String 
        Dim itemType As Integer 
        Dim rtitemText As String 
        Dim richStyle As NotesRichTextStyle 
        Dim richStyle2 As NotesRichTextStyle 
        
        Set db = session.CurrentDatabase 
        Set dc = db.UnprocessedDocuments 
        
        Set richStyle = session.CreateRichTextStyle 
        richStyle.NotesFont = FONT_COURIER 
        richStyle.FontSize = 10 
        richStyle.Bold = True 
        
        Set richStyle2 = session.CreateRichTextStyle 
        richStyle2.NotesFont = FONT_COURIER 
        richStyle2.FontSize = 8 
        richStyle2.Bold = False 
        
        NumSel = dc.Count   
        
        For j = 1 To NumSel 
                Set doc = dc.GetNthDocument(j) 
                theSub = doc.GetItemValue("Subject")(0) 
                Set testdoc = New NotesDocument(db) 
                testdoc.Form = "Memo" 
                Set Body = New NotesRichTextItem(testdoc,"Body") 
                testdoc.Subject = ("Document Synopsis for: " & theSub) 
                Forall i In doc.items 
                        itemType = i.Type 
'                       itemValues(Ucase(i.Name)) = i.Text 
                        itemname = i.Name 
                        If itemType = 1 Then 
                                Set tempRTitem = doc.GetFirstItem(itemname) 
                                rtitemText = tempRTitem.GetFormattedText(True, 60) 
                                Call Body.AppendStyle(richStyle) 
                                Call Body.AppendText(Chr(10) & itemname & ":  " & Chr(10)) 
                                Call Body.AppendStyle(richStyle2) 
                                Call Body.AppendText(rtitemText & Chr(10)) 
                        Else 
                                Call Body.AppendStyle(richStyle) 
                                Call Body.AppendText(Chr(10) & itemname & ":  " & Chr(10)) 
                                Call Body.AppendStyle(richStyle2) 
                                Set getItem = doc.GetFirstItem(itemname) 
                                Forall v In getItem.Values 
                                        Call Body.AppendText(Cstr(v) & Chr(10)) 
                                End Forall 
                        End If 
                End Forall 
                Call testdoc.Save(True, False) 
                Call testdoc.PutInFolder("($Inbox)") 
        Next 
End Sub

Dig Deeper on Lotus Notes Domino Agents