Dump name from ID file
Display most current Notes canonical name.
Looking for something else?
Like many shops, we have a network directory with thousands of Notes ID files. Which variation of JSMITH.ID belongs to Jane Smith, who lost her id file or forgot her password. We are now naming by network account, but have many using default conventions. This agent reads through a directory of ID files and writes a file displaying the file name and the most current Notes canonical name (accounts for name changes in an id file).

Download this free guide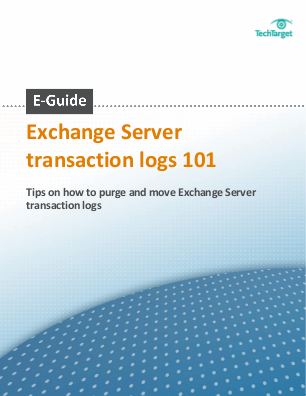 Download this strategic guide on moving Exchange Server transaction logs
Brush up on how log files have changed in Exchange to protect your setup against disaster, discover how to effectively purge transaction logs, and learn how to free up some of the disk space transaction logs have taken up on your drive.
By submitting your email address, you agree to receive emails regarding relevant topic offers from TechTarget and its partners. You can withdraw your consent at any time. Contact TechTarget at 275 Grove Street, Newton, MA.
You also agree that your personal information may be transferred and processed in the United States, and that you have read and agree to the Terms of Use and the Privacy Policy.

' Name: dump Notes ID file
' Purpose: prints name of id file and most current name stored in ID.
'   prints NO NAME FOUND if no canonical name is found in the ID
' 09/26/01 - created. EAJ

Option Public
Option Declare

Sub Initialize
Dim f As Integer, g As Integer, i As Integer, j As Integer
Dim IDpath As String, IDfile As String, InLine As String, OutName As String
On Error Goto processError	' read past end of file
g% = Freefile
Open "c:\idout.txt" For Output As #g%
IDpath = "h:\Notes\R5\data\ids\people\"
IDfile = Dir$(IDpath+"*.id")
	
Do While IDfile <> ""
	f% = Freefile
	Open IDpath+IDfile For Input As #f%
	InLine = ""
	OutName = "NO NAME FOUND"
	Do Until Eof (f%)
		InLine = InLine + Input$ (256, #f%)
		i = Instr (InLine, "CN=")
		If i > 1 Then
			InLine = Mid$ (InLine, i) + Input$ (32, #f%)
			j = Instr (InLine, "O=CHP")
			If j > 0 Then
				OutName = Left$ (InLine, j+5)
				Inline = Mid$ (InLine, j+6)
			Else
				InLine = Mid$ (Inline, 3)
			End If
		Else
			InLine = Right$ (InLine, 2)
		End If
	Loop
NextFile:
	IDfile = Dir$()
Loop
Close g%
Exit Sub
processError:
Close f%
Print #g%,IDfile,OutName
Resume nextfile
End Sub
Dig Deeper on Lotus Notes Domino Administration Tools