Dynamic relative references for JavaScript & CSS files
Utilize formula language in the HTML Head Content attribute
Looking for something else?
Well-formed HTML is a worthy goal (some of us even try to render it to be well-formatted...), however it becomes tedious when working with some of the Notes/Domino features that don't allow computation, like the JS Header attribute of the form.

Download this free guide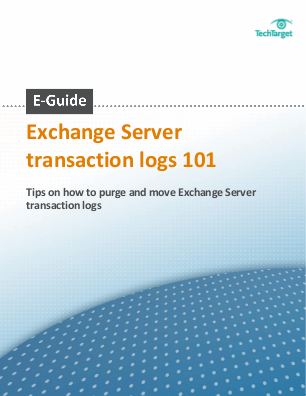 Download this strategic guide on moving Exchange Server transaction logs
Brush up on how log files have changed in Exchange to protect your setup against disaster, discover how to effectively purge transaction logs, and learn how to free up some of the disk space transaction logs have taken up on your drive.
By submitting your email address, you agree to receive emails regarding relevant topic offers from TechTarget and its partners. You can withdraw your consent at any time. Contact TechTarget at 275 Grove Street, Newton, MA.
You also agree that your personal information may be transferred and processed in the United States, and that you have read and agree to the Terms of Use and the Privacy Policy.

One way to get around this, and include all computed content in the HTML Head tags is to utilize formula language in the HTML Head Content attribute.
By doing this, we can preload images without having to parse the ".nsf" from the window.location.href, and reference all other types of modular files like JS, CSS, etc. The ability to resolve the database name without relying on the ".nsf" becomes mandatory when the homepage of your domino application is using a DNS. Using a virtual server with its own DNS may not include the path information to the database.
By using the following formula, all computed references may be handled dynamically to create a well formed HTML Head while having access to the computed database path. The JS Header may subsequently be used for any subsequent client-side scripting.
The following example assumes the following:
1) The page is not intended to be cached by the Web browser
2) There is a form field name "MetaKW" that contains valid meta data keywords
3) There is a form field name "MetaDesc" that contains a valid meta data description
4) There is a design element (in this case a Page) named "validation.js" used for embedded JavaScript
5) There is a design element (in this case a Page) named "DefaultCSS" used for Cascading Style Sheets
6) We have need of referencing the database name through use of the JavaScript variable (in this case "homeDb")

 REM "Begin HTMLHead Formula"; curDB := @ReplaceSubstring(@Subset(@DbName; -1) ; "\" ; "/"); noCache := "<meta http-equiv="PRAGMA" content="NO-CACHE">"; strMeta := "<META NAME="keywords" CONTENT="" + MetaKW + "">"; strMetaDesc := "<META NAME="description" CONTENT="" + MetaDesc + "">"; scriptSRC := "<SCRIPT LANGUAGE="JavaScript" src="/" + curDB + "/validation.js"></script>"; homeScriptVar := "<SCRIPT LANGUAGE="JavaScript">" + @NewLine + "var homeDb = '" + curDB+ "'" + @NewLine + "</script>"; cssSRC := "<LINK REL=stylesheet TYPE="text/css" HREF="/" + curDB + "/DefaultCSS" TITLE="style">"; REM "Draw out the concatenated string elements"; @NewLine + @NewLine + noCache + @NewLine + @NewLine + strMetaDesc + @NewLine + strMeta + @NewLine + @NewLine + scriptSRC +@NewLine + @NewLine + cssSRC + @NewLine + @NewLine + homeScriptVar + @NewLine + @NewLine

Dig Deeper on Domino Resources - Part 4