Embedding Flash Movies For Playback In The Notes Client
Looking for something else?
Embedding a Flash movie into Notes for viewing over the web is relatively straightforward using Pass-thru HTML. However, getting the movie to play in the Notes client is a bit trickier to figure out. Here are the steps for embedding a Flash movie (.swf) into a Notes Document (or Form) for viewing from the Notes Client. This technique requires the ActiveX control version of the Flash Player which is used by Internet Explorer. If you use a different browser you may have to install the Flash Player ActiveX control separately. 1. In a rich text field, goto Create|Object... and wait for the dialog box (it takes some time). 2. Select the Control option and then from the list choose Shockwave Flash Object and hit OK. 3. A large blank Applet object has now been created in Notes. Make sure it is selected. 4. Go to the menu Applet|Object Properties... and check the Run object when reading, and perhaps Size object to fit window. Hit OK. 5. Go to the menu Applet|Show Property Pages. 6. Select Embed Movie, the quality, Scale to ShowAll, and Window mode should be window. Finally, in the Movie URL field enter the full path to the flash (.swf) file you wish to play (i.e., c:\my documents\flash\test.swf). Click OK. The file will be embedded in this document so this path is only used this one time to retrieve the file. 7. Save & Close the document, and the next time it is read the Flash movie should play. Flash Movies embedded in this way, play on the Notes Client, but do not play over the web. This was tested on Windows 98 SE using Notes R5.0.3+


Download this free guide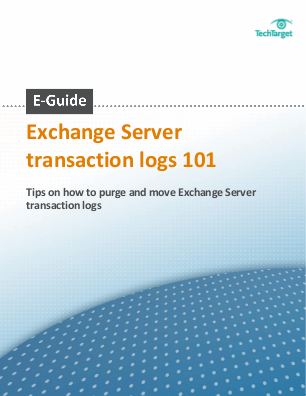 Download this strategic guide on moving Exchange Server transaction logs
Brush up on how log files have changed in Exchange to protect your setup against disaster, discover how to effectively purge transaction logs, and learn how to free up some of the disk space transaction logs have taken up on your drive.
By submitting your email address, you agree to receive emails regarding relevant topic offers from TechTarget and its partners. You can withdraw your consent at any time. Contact TechTarget at 275 Grove Street, Newton, MA.
You also agree that your personal information may be transferred and processed in the United States, and that you have read and agree to the Terms of Use and the Privacy Policy.

Dig Deeper on Domino Resources - Part 4