Embedding images to the mail rather than attaching
This tip describes how to embed inmages in mail rather than attaching them.
Looking for something else?
TECHNOLOGIES
Many of us have the tendency to distribute images (JPG, BMP, TIFF etc) amongst our colleagues and friends as attachments. Instead sending the same as embedded images would drastically reduce the size of your mail, and hence would not hamper the performance of the mail server. So, images can be embedded instead of attaching in those cases where preserving the image format (JPG, BMP, TIFF etc) is not of utmost importance. The below is the original image size, and a memo's size after embedding and attaching the images.

Download this free guide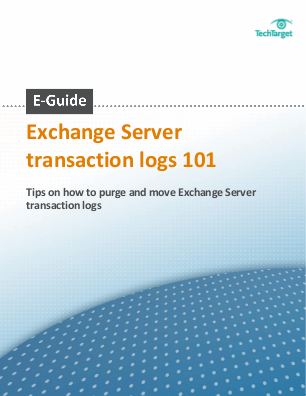 Download this strategic guide on moving Exchange Server transaction logs
Brush up on how log files have changed in Exchange to protect your setup against disaster, discover how to effectively purge transaction logs, and learn how to free up some of the disk space transaction logs have taken up on your drive.
By submitting your email address, you agree to receive emails regarding relevant topic offers from TechTarget and its partners. You can withdraw your consent at any time. Contact TechTarget at 275 Grove Street, Newton, MA.
You also agree that your personal information may be transferred and processed in the United States, and that you have read and agree to the Terms of Use and the Privacy Policy.

Original Files

icon.jpg 33KB
icon.bmp 46KB
icon.tif 49KB
icon.gif 6KB

format Embed  Attach 
gif ~7KB 10KB 
jpg ~35KB 38KB
tif ~7KB 54KB
bmp ~7KB 55KB

From the above table, embedded images (TIF and BMP especially) drastically reduce the mail size compared to the attached ones.
Dig Deeper on Lotus Notes Domino Administration Tools