Emergency antivirus
This tip describes setting up virus protection on your system.
Looking for something else?
I developed this code at the time of the Love Bug virus. When code was ready, it took us a few minutes to completely block our mail system from any modifications of this virus (any files with the VBS extension. The current version of the code checks multiple attachments for partial file name matches and prevents users from opening or previewing possibly infected mail. The code is placed in the Queryopen of the Memo form in the mail file template. After each update, we issuing replace design command through the server console to pass it to a mail file. The process is very fast, and you can block any files in the matter of minutes.

Download this free guide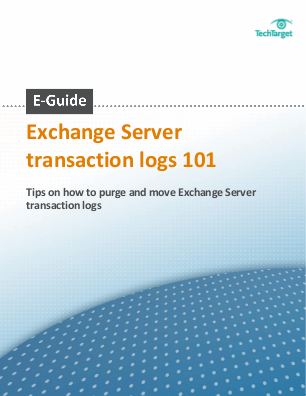 Download this strategic guide on moving Exchange Server transaction logs
Brush up on how log files have changed in Exchange to protect your setup against disaster, discover how to effectively purge transaction logs, and learn how to free up some of the disk space transaction logs have taken up on your drive.
By submitting your email address, you agree to receive emails regarding relevant topic offers from TechTarget and its partners. You can withdraw your consent at any time. Contact TechTarget at 275 Grove Street, Newton, MA.
You also agree that your personal information may be transferred and processed in the United States, and that you have read and agree to the Terms of Use and the Privacy Policy.

Editor's note: Our experts offered this warning on the following tip: "Changing the Memo form for all mail files across a large organization (which this tip requires you to do) is generally a bad idea. Lotus owns the design of the mail files, and usually we recommend against modifying them."

 Dim FileNameString(7) As String FileNameString(0)= ".VBS" FileNameString(1)= ".PIF" FileNameString(2)= "babypic.exe" FileNameString(3)= "NakedWife.exe" FileNameString(4)= "SYSKEY.EXE" FileNameString(5)= ".BAT" FileNameString(7)= ".COM" If source.isnewdoc Then Exit Sub Dim doc As notesdocument Dim item As notesitem Dim subj As Variant Set doc=source.document subj= doc.getitemvalue( "$File" ) If subj(0)="" Then Exit Sub Forall z In doc.items If Ucase(z.name)="$FILE" Then Forall q In FileNameString If Instr(1, Ucase(z.values(0)) , Ucase( q ) ) <> 0 Then continue=False Exit Sub End If End Forall End If End Forall

Dig Deeper on Domino Resources - Part 4