Looking for something else?
There are three ways to activate Shared Mail:
*Set the variable Shared_Mail in the NOTES.INI file
*Use the TELL ROUTER server console command
*Use the Public Address Book server configuration form
Note: When Shared Mail is enabled, actual use of the Shared Mail database is
not immediate; momentary background processing takes place.

Procedure:
Enabling Shared Mail using the server configuration form
The server configuration form enables administrators to change the NOTES.INI
settings using the Public Address Book interface. The server periodically reads
the server configuration documents and updates the NOTES.INI variables. To
enable Shared Mail, follow these steps:
1. Choose File - Tools - Server Administration.
2. Select the server from the list of servers to administer.
3. Choose Configure Server from the Server's pop-up menu.
4. Click Add Configuration.
5. Type the server name in the Server Name field.
6. Click Set/Modify Parameters.
7. Click the Item down-arrow, then select SHARED_MAIL from the list and click
OK.
8. Type 1 or 2 in the Value text box and click OK
9. Save and close the form.



Download this free guide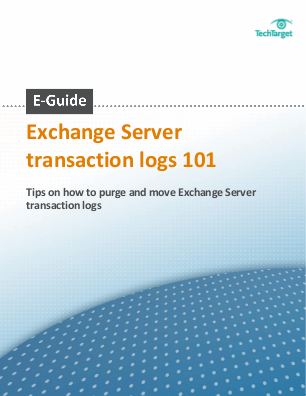 Download this strategic guide on moving Exchange Server transaction logs
Brush up on how log files have changed in Exchange to protect your setup against disaster, discover how to effectively purge transaction logs, and learn how to free up some of the disk space transaction logs have taken up on your drive.
By submitting your email address, you agree to receive emails regarding relevant topic offers from TechTarget and its partners. You can withdraw your consent at any time. Contact TechTarget at 275 Grove Street, Newton, MA.
You also agree that your personal information may be transferred and processed in the United States, and that you have read and agree to the Terms of Use and the Privacy Policy.

Dig Deeper on Domino Resources - Part 4