Looking for something else?
You Can View User Feedback To This Tip
Similar to Lotus' @Explode function, this Explode LotusScript function behaves as follows:
--Given a text string, elements that are separated by the specified separator are defined as members of an array.

Download this free guide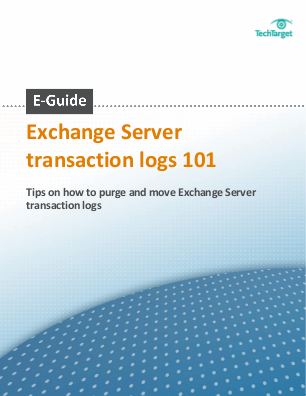 Download this strategic guide on moving Exchange Server transaction logs
Brush up on how log files have changed in Exchange to protect your setup against disaster, discover how to effectively purge transaction logs, and learn how to free up some of the disk space transaction logs have taken up on your drive.
By submitting your email address, you agree to receive emails regarding relevant topic offers from TechTarget and its partners. You can withdraw your consent at any time. Contact TechTarget at 275 Grove Street, Newton, MA.
You also agree that your personal information may be transferred and processed in the United States, and that you have read and agree to the Terms of Use and the Privacy Policy.

For example if the string that was passed was "a:bc:def:g", and the separator was defined as ":", then the resulting array would contain the following four values:
a
bc
def
g

Function explode (Byval inString As String, OutList() As String, delim As String)
'This function takes a text field and splits the values into members of an array, based on the value passed as delim
Dim idx As Integer
Dim begin As Integer
Dim i As Integer
i = 0
begin = 1

'First make sure that the last character in inString is not a delimiter If Right$ ( inString , Len(delim) ) = delim Then inString = Left$(inString,Len(inString) - Len(delim))
End If
idx = Instr (begin , inString , delim)
Do While idx > 0
Redim Preserve outList(0 To i) As String
outList(i) = Mid$ ( inString , begin , idx - begin )
i = i + 1
begin = idx + Len(delim)
idx = Instr (begin , inString , delim)
Loop
Redim Preserve outList(0 To i) As String
outList(i) = Mid$ ( inString , begin )
explode = i + 1
End Function
Another way to implement the explode function would be using evaluate. In fact, use evaluate whenever you can make a computation with the formula language. It is so much more efficient.


 Dim texttosplit As String Dim resultarray As Variant Const delim = ":" texttosplit = "a:bc:def:g" resultarray = Evaluate(|@explode("| & texttosplit & |";"| & delim & |")|)


Remember to avoid redim statements when you can. They're expensive.—Kasper
The code for the script version of explode is a bit different from the @Function. The @Function uses every character in the string as a delimiter. For example, if I have a string "No1Yes2Maybe3" and I use @Explode(string; "123"), I will get No, Yes, Maybe. But if I use your script, I don't get any list array back, just my original string because my delimiter is not in the string as a string. But for a one-character delimiter, it works the same. >—Robert Albritton
Dig Deeper on Domino Resources - Part 4