Extracting query string parameters in agents
This code will produce a LotusScript list of key value pairs representing the query string passed to the agent in the form
Looking for something else?
TECHNOLOGIES
This code will produce a LotusScript list of key value pairs representing the query string passed to the agent in the form:-
http://server/db.nsf/agWeb?OpenAgent&Fred=Wilma&Barney=Betty&BedRock
The list will allow you to extract these parameters like this:

lstParams( "fred" )
IsElement( lstParams( "bedrock" ) )
The code uses the LotusScript Evaluate command to process the QUERY_STRING_DECODED and make it into an array. It is very simple to understand and because it uses the QUERY_STRING_DECODED there is no need to decode the string as Domino does this for us!

Download this free guide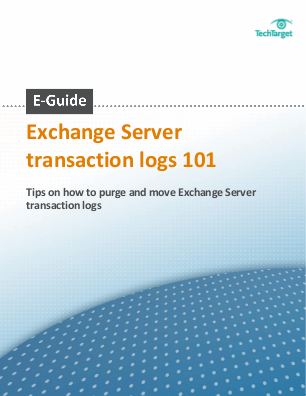 Download this strategic guide on moving Exchange Server transaction logs
Brush up on how log files have changed in Exchange to protect your setup against disaster, discover how to effectively purge transaction logs, and learn how to free up some of the disk space transaction logs have taken up on your drive.
By submitting your email address, you agree to receive emails regarding relevant topic offers from TechTarget and its partners. You can withdraw your consent at any time. Contact TechTarget at 275 Grove Street, Newton, MA.
You also agree that your personal information may be transferred and processed in the United States, and that you have read and agree to the Terms of Use and the Privacy Policy.

The keys for the list are converted to lowercase as it is easy to pass parameters that are in the wrong case. The case of the values is left unaltered.
To call the function, use the code in the Initialize sub.
Enjoy!


sub Initialize
	Dim session As New NotesSession
	Dim docCurrent As NotesDocument
	Dim lstParams As Variant
	
	lstParams = funGetQueryParameters( docCurrent.QUERY_STRING_DECODED(0) )
	
	Forall sValue In lstParams
		Print Listtag( sValue ) & "=" & sValue & "<br>"
	End Forall
End Sub

Function funGetQueryParameters( sQueryString As String ) As Variant
	
%REM

Given the QUERY_STRING_DECODED, return a string list containing key value pairs

%END REM
	
	Const FORMULA_EXPLODE_QS_1 = |@EXPLODE( "|
	Const FORMULA_EXPLODE_QS_2 = |";"&")|
	Const FORMULA_EXPLODE_PAIR_1 = |@EXPLODE( "|
	Const FORMULA_EXPLODE_PAIR_2 = |";"=")|
	
	Dim lstParams List As String
	Dim vAllPairs As Variant
	Dim vPair As Variant
	
	vAllPairs = Evaluate( FORMULA_EXPLODE_QS_1 & sQueryString & FORMULA_EXPLODE_QS_2 )
	
	Forall sPair In vAllPairs
		vPair = Evaluate( FORMULA_EXPLODE_PAIR_1 & sPair &

FORMULA_EXPLODE_PAIR_2 )
		'The line below catches the situation where there is no

pairing, ie just a single
		'key name with no value. In this case the key and value are the same
		lstParams( Lcase(vPair(0)) ) = vPair( Ubound( vPair ) )		
	End Forall
	
	funGetQueryParameters = lstParams
	
End Function

Dig Deeper on Lotus Notes Domino Administration Tools