Force a Page Break on a Domino Web Page
You Can View User Feedback To This Tip
I had a need to force a page break after a certain section of a page generated by Domino. I created a style sheet and used the ID attribute in conjunction with the P tag to force the page break. Domino places a <p> at the beginning of the body tag. So you can't force the page break using only the <p> tag. So by using the ID attribute it only breaks the paragraph where I tell it to! This works with straight html as well.

Download this free guide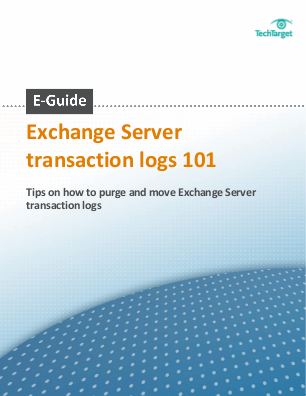 Download this strategic guide on moving Exchange Server transaction logs
Brush up on how log files have changed in Exchange to protect your setup against disaster, discover how to effectively purge transaction logs, and learn how to free up some of the disk space transaction logs have taken up on your drive.
By submitting your email address, you agree to receive emails regarding relevant topic offers from TechTarget and its partners. You can withdraw your consent at any time. Contact TechTarget at 275 Grove Street, Newton, MA.
You also agree that your personal information may be transferred and processed in the United States, and that you have read and agree to the Terms of Use and the Privacy Policy.

Thanks to Matthew Sheranko from the lnotes-l list for the basic idea. More information can be found at: http://www.htmlhelp.com/reference/css/style-html.html

Code: Place the following code in the "HTML Head" section of your domino form:
   <STYLE>
       #pbb4 { page-break-before: always }
   </STYLE>

And place a <P ID=pbb4> where-ever you need the forced page break on your generated form.

Here's an example in straight html:
<HTML>
   <HEAD><TITLE>Dynamic Styles: Page Breaking</TITLE>
   <STYLE>
       #pbk1 { page-break-before: always }
   </STYLE>
   </HEAD>
   <BODY>
       <p >
       1st page content
       </p>
       <p >
       more 1st page content
       </p>
       <p id=pbk1>
       2nd Page content
       </p>
   </BODY>
   </HTML>


This works for IE but doesn't function at all in Netscape. —Barry Parish
Dig Deeper on Domino Resources - Part 6