Forwarding A Document Thru' Script
Looking for something else?

Download this free guide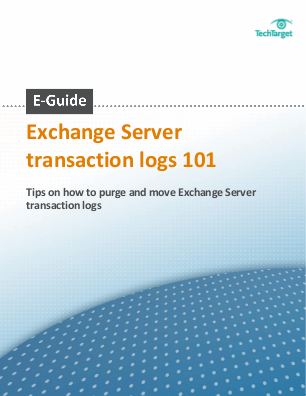 Download this strategic guide on moving Exchange Server transaction logs
Brush up on how log files have changed in Exchange to protect your setup against disaster, discover how to effectively purge transaction logs, and learn how to free up some of the disk space transaction logs have taken up on your drive.
By submitting your email address, you agree to receive emails regarding relevant topic offers from TechTarget and its partners. You can withdraw your consent at any time. Contact TechTarget at 275 Grove Street, Newton, MA.
You also agree that your personal information may be transferred and processed in the United States, and that you have read and agree to the Terms of Use and the Privacy Policy.

The following code gives you "Forwarding a mail" functionality in script. Same
functionality can be attained using formula but there are situations where you
want to forward a document thru script. Let's see some of the places where we
can use it.

1. Notes Document to be sent to users thru script and also who don't have
access to the application.
2. Some updation has be done thru script and also wants to forward this
document to some users.
3. Want to forward a document without user intervention.
Create a new form in your database and call it as "Memo". Create the following
fields
1. From
2. SendTo
3. CopyTo
4. BlindCopyTo
5. Subject
6. Body
7. SaveOptions and set it to computed and value as "0".

Enable the property "Inherit entire selected document into Rich Text Field" and
select the field name as "Body" and "Rich Text". Now, Save and Close the form.

Let's say you have Monthly Sales Details form and a mail has to be triggered
with this document on close event. Type the following code in the close event
of the document.

Sub Queryclose(Source As Notesuidocument, Continue As Variant)
Dim oUiWs As New NotesUiWorkspace
Dim oUiDoc As NotesUiDocument
Set oUiDoc = oUiWs.ComposeDocument("","","Memo2")
Call oUiDoc.FieldSetText("SendTo","xx")
Call oUiDoc.FieldSetText("Subject","Monthly Sales Details")
Call oUiDoc.Send
Call oUiDoc.Close
end sub

Check the mail. Hope this helps.
Dig Deeper on Lotus Notes Domino Administration Tools