Generating dynamic images using servlet
Servlet ImageGenerator shows how easily can servlet on Domino server produce dynamic images. Images are generated using Acme?s classes, that are part of notes.jar package.

Download this free guide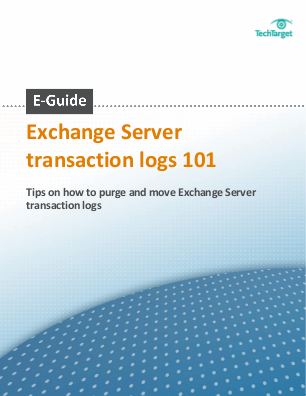 Download this strategic guide on moving Exchange Server transaction logs
Brush up on how log files have changed in Exchange to protect your setup against disaster, discover how to effectively purge transaction logs, and learn how to free up some of the disk space transaction logs have taken up on your drive.
By submitting your email address, you agree to receive emails regarding relevant topic offers from TechTarget and its partners. You can withdraw your consent at any time. Contact TechTarget at 275 Grove Street, Newton, MA.
You also agree that your personal information may be transferred and processed in the United States, and that you have read and agree to the Terms of Use and the Privacy Policy.

For keeping this example simple, there is no parametrization as well as no caching mechanism implemented.


CODE:
import javax.servlet.*;
import javax.servlet.http.*;
import java.io.*;
import java.awt.*;
import Acme.JPM.Encoders.*;
import lotus.domino.*;

public class ImageGenerator extends HttpServlet
{
Image image = null;
public static final int IMAGE_WIDTH = 200;
public static final int IMAGE_HEIGHT = 40;

//Initialize global variables
public void init(ServletConfig config) throws ServletException
{
super.init(config);
// use temporary frame to get new image
Frame frameTemp = new Frame();
frameTemp.addNotify();
image = frameTemp.createImage(IMAGE_WIDTH, IMAGE_HEIGHT);
}

//Process HTTP Get request
public void doGet(HttpServletRequest request, HttpServletResponse response) throws ServletException, IOException
{
response.setContentType("image/gif");
OutputStream os = response.getOutputStream();
// write GIF to output stream
writeImage(os, image);
os.close();
}

private void writeImage(OutputStream out, Image image) throws IOException
{
Graphics g = image.getGraphics();

// >> PLACE YOUR RENDERING CODE HERE <<

// Example - START
try
{
NotesThread.sinitThread();
Session s = NotesFactory.createSession();
g.setColor(Color.orange);
g.fillRect(0, 0, IMAGE_WIDTH, IMAGE_HEIGHT);
g.setColor(Color.black);
g.drawString(s.getPlatform(), 6, 15);
}
catch (Exception e)
{
g.drawString("" + e, 6, 15);
}
// Example - END

GifEncoder encoder = new GifEncoder(image, out);
encoder.encode();
out.flush();
}

}

Dig Deeper on Domino Resources - Part 6