Get Access Back
Get Access Back
Looking for something else?
You Can View User Feedback To This Tip

Need the ability to get access back to all applications on a server or assign a certain group access to all databases? This code will allow you to set the ACL of any and all databases on a server, even with local security enforced. This code will work as long as the server has Manager Access to the application. Place this code into a scheduled agent on the server.

Use the server ID to Schedule and save the agent. The agent will walk though all databases on the server and make the changes. It will create an entry in the Log.nsf file for each database.


Download this free guide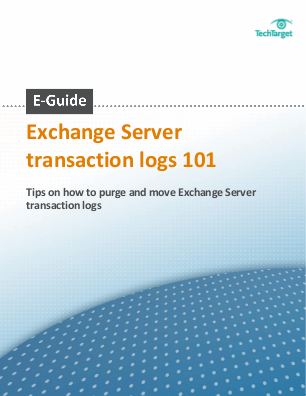 Download this strategic guide on moving Exchange Server transaction logs
Brush up on how log files have changed in Exchange to protect your setup against disaster, discover how to effectively purge transaction logs, and learn how to free up some of the disk space transaction logs have taken up on your drive.
By submitting your email address, you agree to receive emails regarding relevant topic offers from TechTarget and its partners. You can withdraw your consent at any time. Contact TechTarget at 275 Grove Street, Newton, MA.
You also agree that your personal information may be transferred and processed in the United States, and that you have read and agree to the Terms of Use and the Privacy Policy.


Sub Initialize
 Dim session As New Notessession
 Dim count As Integer
 count =0
 On Error Goto ErrorHandle
 
 Set Directory = New Notesdbdirectory("")
 Set db=directory.getfirstdatabase(TEMPLATE_CANDIDATE)
 While Not (db Is Nothing)
  Count = count +1
  Print Count
  Call db.Open( "","")
  Print db.filename
  Call db.GrantAccess("Admin",ACLLEVEL_MANAGER)
  Call db.GrantAccess("Anonymous",ACLLEVEL_NOACCESS)
  Set db = directory.getnextdatabase
 Wend
 Exit Sub
 
Errorhandle:
        Print "Skipped " + db.filename 
        Resume Next 
End Sub

There are two problems with this tip that render it mostly worthless for R5:

1. You can no longer sign elements with the server ID from your workstation. The whole premise of the tip is that your ID no longer has access. However, you do have access to the server ID and can thus sign the element. This step is not easily done in R5 which should have been mentioned along with the instructions for doing so. Based on information from Lotus on how this is done in R5, the tip is of little help. A link to the tip from support.lotus.com is below: http://support.lotus.com/sims2.nsf/802ee480bdd32d0b852566fa005acf8d/d888c4b45ce7bf76862567dd00646502?OpenDocument&Highlight=0,signing,ID,R5

2. The agent is described as a "Scheduled" agent. These types of agents can run on two types of documents -- all documents in the database and new or modified documents. That being the case, where would this agent be created since it is not truly "acting" on any documents but instead is modifying the ACL of a database. When you actually run the agent, it doesn't work because NO documents 'match' the agents criteria.

— Reese Spears
Dig Deeper on Domino Resources - Part 5