Have You Wanted To Know Why Transaction Logging Is So Vital?
Looking for something else?
When transaction logging is enabled,the Domino R5 Server captures all the changes that users make to databases and writes them to a transaction log, rather than immediately writing them directly to the various databases. This allows Domino to defer write operations to databases during times of high server activity. When resources are available, or at periodic intervals, logged transactions are written to disk in a batch. Should a failure occur in the interim, the transaction log is used to recover the affected databases.

Download this free guide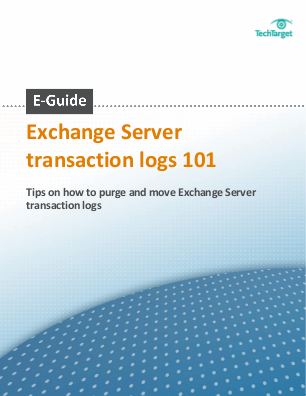 Download this strategic guide on moving Exchange Server transaction logs
Brush up on how log files have changed in Exchange to protect your setup against disaster, discover how to effectively purge transaction logs, and learn how to free up some of the disk space transaction logs have taken up on your drive.
By submitting your email address, you agree to receive emails regarding relevant topic offers from TechTarget and its partners. You can withdraw your consent at any time. Contact TechTarget at 275 Grove Street, Newton, MA.
You also agree that your personal information may be transferred and processed in the United States, and that you have read and agree to the Terms of Use and the Privacy Policy.

The great advantage of transaction logging is that it allows Domino to automatically recover data lost through system failures simply by replaying the deferred database changes from the transaction log. The principal benefits of this highly efficient data recovery capability are:
Simplified backup procedures. On a daily basis, most sites will need to back up only the transaction logs for that day.
Improved data integrity, because the recovery process detects any missing changes and replays them, while "undoing" any changes that were incomplete at the time of the failure. Thus, Domino can start with "clean" databases.
Much faster server restart times, which means enhanced system availability.
No more long Fixup sessions! With transaction logging, you will rarely need to run Fixup on a logged database, except in the very rare event that Domino detects errors following recovery.
Another benefit of transaction logging is a measurable increase in overall system performance. The logging process creates more total overhead. But Domino more than makes up for it, by writing to the log sequentially, rather than to the databases randomly. This means faster writes!
Transaction logging will:
Save you considerable time, trouble and tape over the long run.
Enable you to deliver a higher level of service.
Save your organization substantial amounts of money through increased up-time, reduced backup costs and better server performance.
Potentially prevent the catastrophic costs associated with losing mission-critical data.
So all you admins out there, look into getting this implemented on your systems and watch the improvements!

Dig Deeper on Domino Resources - Part 2