Hide text when printing from the Web
Did you ever try to hide a paragraph just when printing from the web, but not from reading or editing?

Download this free guide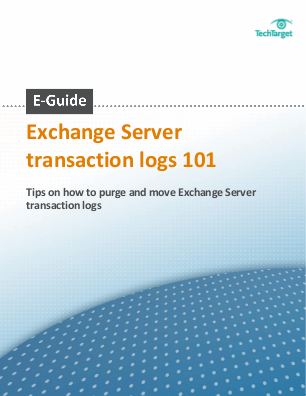 Download this strategic guide on moving Exchange Server transaction logs
Brush up on how log files have changed in Exchange to protect your setup against disaster, discover how to effectively purge transaction logs, and learn how to free up some of the disk space transaction logs have taken up on your drive.
By submitting your email address, you agree to receive emails regarding relevant topic offers from TechTarget and its partners. You can withdraw your consent at any time. Contact TechTarget at 275 Grove Street, Newton, MA.
You also agree that your personal information may be transferred and processed in the United States, and that you have read and agree to the Terms of Use and the Privacy Policy.

Did you ever try to hide a paragraph just when printing from the web, but not from reading or editing? The option "Hide when printed" isn't working on the web, as HTML has no option to handle this. However, by using some DHTML and Javascript, text can be hidden only when printing as described below.

The following code has to be entered in the form containing the text to hide when printing:

1) Define the following classes with the parameter visibility in the STYLE tag in the HTML Head Content

"<STYLE> .vis1 {visibility: "visible" } .vis2 {visibility: "hidden" } </STYLE>"

2) In the JS Header of the form, define a JS function to toggle between both classes:

function changeClass(cl1, cl2) {
var coll = document.all.tags("P");
if (coll != null) {
for (i=0; i < coll.length; i++)
if (coll[i].className == cl1) {
coll[i].className = cl2 }
}
}

3) At the beginning of the form, use the DHTML events "onbeforeprint" and "onafterprint" as Passthru HTML to toggle between the styles before and after printing as follows:

<body onbeforeprint="changeClass('vis1', 'vis2')"><body onafterprint="changeClass('vis2', 'vis1')">


4) Encapsulate the text to hide with the style vis1 as follows:
[<p class=vis1>]text to hide[</p>]

That's it. This has been tested with IE5.5
Dig Deeper on Domino Resources - Part 6