How To Make IE as Notes Default Browser Through LotusScript
How set Internet Explorer as Notes Default Browser. Same code can be used to change different brower setting in location document.
This changes Browser settings for all location documents.
This is done in two steps,
First create a Button & Put below script, which will check for browser setting, if setting is not IE then sets to IE.
Second Create another button to Apply Changes you just made to the current Location document without Closing Notes.
You can check current Setting by this statement. @LocationGetInfo([WebRetriever])

'First Button Call it Make IE Default Notes Browser
Dim sess As New NotesSession
Dim db As New Notesdatabase("","names.nsf")
Dim doc As Notesdocument
'
Dim view As Notesview
Dim ChangeFlag As Integer

Download this free guide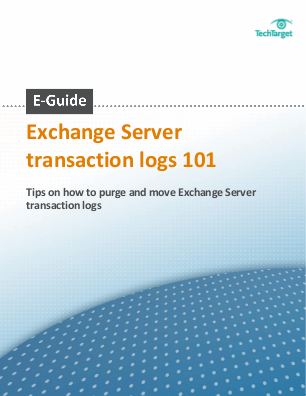 Download this strategic guide on moving Exchange Server transaction logs
Brush up on how log files have changed in Exchange to protect your setup against disaster, discover how to effectively purge transaction logs, and learn how to free up some of the disk space transaction logs have taken up on your drive.
By submitting your email address, you agree to receive emails regarding relevant topic offers from TechTarget and its partners. You can withdraw your consent at any time. Contact TechTarget at 275 Grove Street, Newton, MA.
You also agree that your personal information may be transferred and processed in the United States, and that you have read and agree to the Terms of Use and the Privacy Policy.

If Not(db.IsOpen) Then Call db.Open("","")
Set view=db.GetView("($Locations)")
Set doc=view.GetFirstDocument
ChangeFlag = 0
While Not(doc Is Nothing)
Print "Checking default browser for Location:
"+Ucase$(doc.Name(0))
If doc.WebRetriever(0)<>"2" Then
Print "Setting default browser to IE: "+Ucase$(doc.Name(0))
doc.WebRetriever="2"
Call doc.Computewithform(False,False)
Call doc.Save(True,True)
ChangeFlag = 1
End If
Set doc=view.Getnextdocument(doc)
Wend
Print ""
If ChangeFlag = 1 Then
Msgbox "At least 1 Location document was altered by this process.
In order for the change to take effect, click the [Apply] button, or exit
and re-start Notes."
Else
Msgbox "Your Browser settings were already correct. No Location Documents were changed."
End If
'Second Button Code Call It Apply Changes
@Command([SetCurrentLocation];"");
@If(@Prompt([YESNO];"Verify Browser Change";"We will now attemp to connect
to the Intranet using Internet Explorer. Do you want to proceed?") ;
@URLOpen(http://www.lotus411.com);"")
Dig Deeper on Domino Resources - Part 6