How to apply XSL style sheets to XML views
Learn how you can apply XSL style sheets to your XML views without the pain of creating several templates.
Looking for something else?
In this tip, I will show you an easy way to apply XSL (Extensible Style Language) style sheets to an XML view without the pain of creating numerous view templates.

If you have any XML views in your application, chances are you will be applying an XSL style sheet to them -- using complicated JavaScript routines. For presentation's sake, there is an easier way.

Download this free guide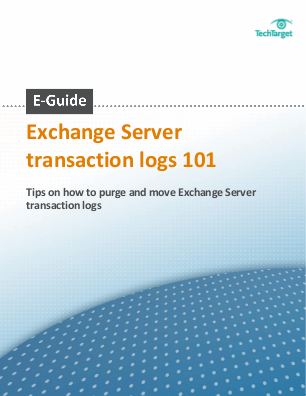 Download this strategic guide on moving Exchange Server transaction logs
Brush up on how log files have changed in Exchange to protect your setup against disaster, discover how to effectively purge transaction logs, and learn how to free up some of the disk space transaction logs have taken up on your drive.
By submitting your email address, you agree to receive emails regarding relevant topic offers from TechTarget and its partners. You can withdraw your consent at any time. Contact TechTarget at 275 Grove Street, Newton, MA.
You also agree that your personal information may be transferred and processed in the United States, and that you have read and agree to the Terms of Use and the Privacy Policy.

For example, let's say you have one XML view and six XSL style sheets. In this example, you will use a page to store your XSL.
First, create a form to be used as your view template. The form should be either HTML or text/XML. The form will be opened with a URL like this:
http://server/db.nsf/myform?ReadForm&view=XMLVIEW1&xsl=xslpage1
Your embedded view will be XMLVIEW, which is a formula computed using @URLQueryString("view").
At the top of the form, you will define the XML details -- including which style sheet to apply. Your computed value will be the @WebDbName of your database, plus @URLQueryString("XSL"), as shown below:

<?xml version="1.0" encoding="UTF-8" ?>
<?xml-stylesheet type="text/xsl" 
href="<computed value>"?>

The XML style sheet line tells the browser to pre-format your XML with the XSL page you specified.
How you store the XSL in the database is up to you, but you could make it accessible to advanced users to enable them to manipulate data without needing to create any more views.
To finish, pass the name of the XSL file in the URL Query String and the browser does the rest.
Do you have comments on this tip? Let us know.
Related information from SearchDomino.com:
Learning Guide: Extensible Markup Language
Reference Center: XML/Web services tips and resources

This tip was submitted to the SearchDomino.com tip library by member Ben Rodway. Please let others know how useful it is via the rating scale below. Do you have a useful Lotus Notes, Domino, Workplace or WebSphere tip or code snippet to share? Submit it to our monthly tip contest and you could win a prize.

Dig Deeper on XML and Web Services for Lotus Notes Domino