How to get New Mail triggered agents to run
Looking for something else?

Download this free guide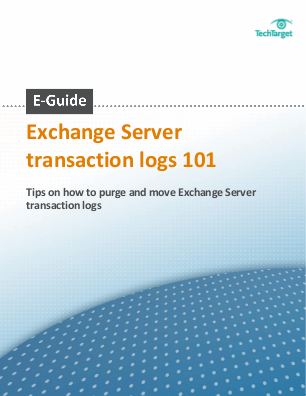 Download this strategic guide on moving Exchange Server transaction logs
Brush up on how log files have changed in Exchange to protect your setup against disaster, discover how to effectively purge transaction logs, and learn how to free up some of the disk space transaction logs have taken up on your drive.
By submitting your email address, you agree to receive emails regarding relevant topic offers from TechTarget and its partners. You can withdraw your consent at any time. Contact TechTarget at 275 Grove Street, Newton, MA.
You also agree that your personal information may be transferred and processed in the United States, and that you have read and agree to the Terms of Use and the Privacy Policy.

Having trouble with New Mail triggered agents that don't run? That could be because the person saving the agent has his mailbox located on a different server from where the agent is located. From the documentation: Syntax: AMgr_DisableMailLookup=value Description: By default, a mail-triggered agent performs a mail lookup of the user who last modified it. It runs only if the server running the agent is also the user's mail server. When a user creates or modifies a mail-triggered agent on a server other than his own mail server, you can use this setting on the server to disable mail lookup so that the agent can run. 0 - Perform mail lookups when running mail-triggered agents 1 - Do not perform mail lookups when running mail-triggered agents This works as described above in 4.5.3+ and Notes 4.6.1+. Before that the presence (whichever of the parameters you use) of AMgr_DisableMailLookup in Notes.Ini works as if it were AMgr_DisableMailLookup=0. If you do not want lookups, remove the parameter from notes.ini. Note - You can use this configuration setting in both Notes.ini and the names.nsf Configurations view.

Dig Deeper on Lotus Notes Domino Agents