How to support Flash objects in any Web browser for a Lotus Notes Domino application
When developing applications for Lotus Notes and Domino Server, developers often need to support several different Web browser versions and types. This JavaScript code from SearchDomino.com member Steve Camps shows how to support Flash objects on any Web browser that understands JavaScript or ActiveX.
Looking for something else?
When building applications for Lotus Notes and Domino Server, developers often need to support several different Web browser versions and types. The JavaScript code in this tip shows how to support Flash objects on any Web browser that understands JavaScript or ActiveX.

If the Web browser supports MIME-type applications, the JavaScript writes out an EMBED tag to display the Flash animation. Otherwise, it will write an IMG tag to display only a graphic.

Download this free guide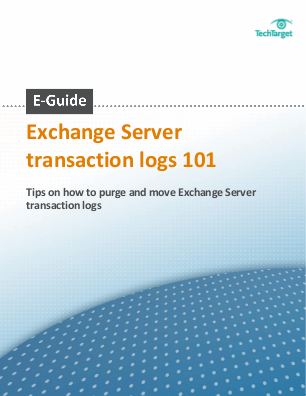 Download this strategic guide on moving Exchange Server transaction logs
Brush up on how log files have changed in Exchange to protect your setup against disaster, discover how to effectively purge transaction logs, and learn how to free up some of the disk space transaction logs have taken up on your drive.
By submitting your email address, you agree to receive emails regarding relevant topic offers from TechTarget and its partners. You can withdraw your consent at any time. Contact TechTarget at 275 Grove Street, Newton, MA.
You also agree that your personal information may be transferred and processed in the United States, and that you have read and agree to the Terms of Use and the Privacy Policy.

The OBJECT tag is invoked on any browser that supports ActiveX, regardless of which tag JavaScript writes.
Make sure that there are no line breaks in your EMBED or IMG tags, or the JavaScript will fail. If you'd like to use line breaks, you can put each line in a separate document.write() command.
Notice that the entire EMBED and IMG strings are enclosed in single quotes; this allows for double quotes to be inside of the strings, without breaking them or having to use a slash to declare each quotation mark (").
 <object classid=
"clsid:D27CDB6E-AE6D-11
cf-96B8-444553540000" codebase=
"http://download.macromedia.com/pub/shockwave/
cabs/flash/ swflash.cab#version=5,0,0,0" 
width="466" height="233">
          <param name=movie value=
"/<Computed Value>
/Movement-joystick.swf">
          <param name=quality 
value=high>

<!-- begin the JavaScript -->
<SCRIPT LANGUAGE="JavaScript">
//Determine if  the browser understands 
the mimeTypes property and recognizes 
//"application/x-shockwave-flash"...

if (navigator.mimeTypes && 
navigator.mimeTypes["application/ 
x-shockwave-flash"]){

   //The browser can interpret mimeTypes 
so write out the <embed> 
</embed> tags to the document.

   document.write('<embed src=
"/<Computed Value>/Movement-joystick.swf" 
quality=high luginspage=
"http://www.macromedia.com/shockwave/
download/index.cgi?P1_Prod_ 
Version=ShockwaveFlash" type="application/
x-shockwave-flash" width="466" height="233">
</embed>');

} else {
   //...browser doesn't recognize mimeTypes 
so substitute the movie with a graphic 
using the <IMG> tag

   document.write('<IMG SRC="noflashpic.gif" 
WIDTH="220" HEIGHT="110" ALT=
"Non-Flash User Picture">'); } </SCRIPT>
<!-- Close the OBJECT tag. -->
</object>

Do you have comments on this tip? Let us know.
This tip was submitted to the SearchDomino.com tip library by member Steve Camps. Please let others know how useful it is via the rating scale below. Do you have a useful Lotus Notes, Domino, Workplace or WebSphere tip or code snippet to share? Submit it to our monthly tip contest and you could win a prize.

Dig Deeper on JavaScript for Lotus Notes Domino