Jump to the end of a view (web agent)
Looking for something else?

Download this free guide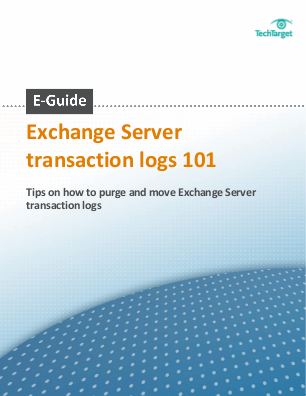 Download this strategic guide on moving Exchange Server transaction logs
Brush up on how log files have changed in Exchange to protect your setup against disaster, discover how to effectively purge transaction logs, and learn how to free up some of the disk space transaction logs have taken up on your drive.
By submitting your email address, you agree to receive emails regarding relevant topic offers from TechTarget and its partners. You can withdraw your consent at any time. Contact TechTarget at 275 Grove Street, Newton, MA.
You also agree that your personal information may be transferred and processed in the United States, and that you have read and agree to the Terms of Use and the Privacy Policy.

When displaying a view, it is sometimes useful to have a link to its end.
There is an agent that will redirect you to the bottom of a view...
The way to use it :
<a href='/server/base.nsf/aa_eofView?openAgent&view=viewalias'$gt;Jump to end!</a>
where :
server is the name of your domino server,
base.nsf is the name of the base containing both the view and the agent, aa_eofView is the name of this agent, and viewAlias is the name of your view... PS : getParam and webSyntax are functions used to parse the query string and to format the database file path.


Option Public
Option Declare

Sub Initialize
	
	On Error Goto errorLabel
	
	Dim s As New notesSession
	
	Dim sdoc As notesDocument
	Set sdoc = s.documentContext
	
	Dim db As notesDatabase
	Set db = s.currentDatabase
	
	Dim viewName As String
	viewName = getParam ("&view=", sdoc.query_string(0))
	
	Dim view As notesView
	Set view = db.getView (viewName)
	
	If view Is Nothing Then		
		Print "Error : view not found<br>"
		Print "<a href='javascript:history.go(-1)'>back</a>"
		Exit Sub
	End If
	
	Print "[/"+webSyntax(db.filepath)+"/"+viewName+"?
openView☆t=";Trim$(Str$(view.topLevelEntryCount));"]"
	
	Exit Sub
	
errorLabel:
	Print "Error : ";Error$(Err);" at line ";Erl
	Print "<a href='javascript:history.go(-1)'>back</a>"
	Resume endLabel
	
endLabel:
	
End Sub

Function getParam (keyname, query) As String
	Dim rstr As String
	Dim pos As Integer
	
	If (Left$(keyname,1)<>"&") Then
		keyname = "&"+keyname
	End If
	
	pos = Instr(Ucase(query), Ucase(keyname))
	If pos>0 Then
		rstr = Right$(query, Len(query)-pos+1-Len(keyname))		
		pos=Instr(rstr, "&")		
		If pos>0 Then
			rstr=Left(rstr,pos-1)
		End If		
		getParam = rstr
	Else
		getParam=""
	End If
	
End Function

Function webSyntax(s) As String
	Dim pos As Integer
	
	webSyntax = s
	
	pos = Instr(webSyntax,"")	
	While pos>0
		Mid$(webSyntax,pos,1)="/"		
		pos = Instr(webSyntax,"")
	Wend
	
	pos = Instr(webSyntax," ")	
	While pos>0
		Mid$(webSyntax,pos,1)="+"		
		pos = Instr(webSyntax," ")
	Wend
	
End Function

Dig Deeper on Domino Resources - Part 7