Keeping Admin4 Under Control
Looking for something else?
Admin4 is hugh, it's killing you, your servers, and network bandwidth during replication to other domain servers. It's loaded with tons of data generated daily at breakneck rates, especially if your environment is medium->large. Frequently a request becomes corrupt causing problems with replication, etc. As Regis would say, "It's out of control !!!"

Download this free guide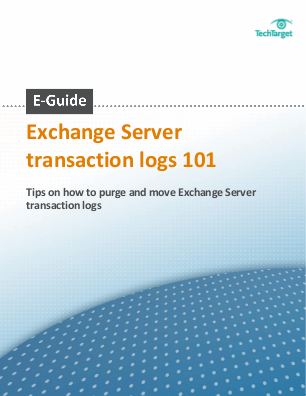 Download this strategic guide on moving Exchange Server transaction logs
Brush up on how log files have changed in Exchange to protect your setup against disaster, discover how to effectively purge transaction logs, and learn how to free up some of the disk space transaction logs have taken up on your drive.
By submitting your email address, you agree to receive emails regarding relevant topic offers from TechTarget and its partners. You can withdraw your consent at any time. Contact TechTarget at 275 Grove Street, Newton, MA.
You also agree that your personal information may be transferred and processed in the United States, and that you have read and agree to the Terms of Use and the Privacy Policy.

If you have a hub-and-spoke replication topology, then you can use this selective replication formula on admin4.nsf replicas (use only in replication "spoke" server replicas; not in replication "hub" nor in "AdminP" server replicas) ...
SELECT
ProxyAuthor=@UserName |
ProxyServer="*" |
ProxyServer=@UserName |
ProxyActionRequestor=@UserName |
ProxyServername=@UserName
This will only allow data into the replica that is pertinent to that server's adminp activities putting a dramatic end to it's prior days of diskspace and network bandwidth gobbling activities allowing you to spend more time on baby-sitting other Notes server problems.
NOTE: After a new server setup or recreation of admin4.nsf one needs to remember to do the above as this setting is not automatically replicated from another replica nor inherited from admin4.ntf.

Dig Deeper on Lotus Notes Domino Performance