Keyboard shortcuts for Domino
This tip describes using keyboard shortcuts for Domino.
Every once in a while, you come across something that saves you a few steps every time you do something, and it is so simple, you don't understand why you didn't know about it before. I remember the first time I found out about the [CTRL] + M shortcut. EUREKA! It saves so much time and actually helps me get a lot done, because I can jot off the message when I think about it, without regard to what else I'm doing in Notes at the time.

Download this free guide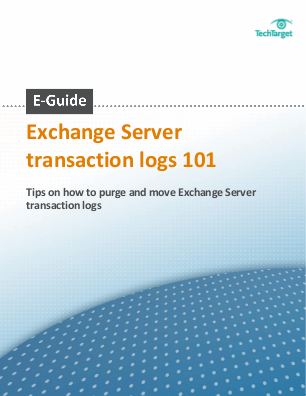 Download this strategic guide on moving Exchange Server transaction logs
Brush up on how log files have changed in Exchange to protect your setup against disaster, discover how to effectively purge transaction logs, and learn how to free up some of the disk space transaction logs have taken up on your drive.
By submitting your email address, you agree to receive emails regarding relevant topic offers from TechTarget and its partners. You can withdraw your consent at any time. Contact TechTarget at 275 Grove Street, Newton, MA.
You also agree that your personal information may be transferred and processed in the United States, and that you have read and agree to the Terms of Use and the Privacy Policy.

Below are some of my favorites. I've even included the obvious one's that are Windows standards, because just last week, someone reminded me of the [CTRL] + O shortcut.
Anywhere in Notes
[ALT]
Displays the shortcut key to use for actions or windows
[ALT] + [Enter]
Toggles the properties window Open/Closed
[CTRL] + M
Opens a new Mail Memo
[CTRL] + O
Opens the Open Database Dialog
[CTRL] + P
Opens the Prints Dialog
[CTRL] + S
Save the current document/form
[CTRL] + [BREAK]
Stop an operation
[F1]
Context Sensitive Help
[F5]
Logoff/Lock Notes
[F9]
Refresh a view/document
In a view
[TAB]
Next unread document in the view
[SHIFT] + [TAB]
Previous unread document in the view
[INS]
Toggles a document as Read/ UnRead
In a document being viewed/edited
[Enter]
Opens the Next document in the view (view only)
[Shift] + [Enter]
Opens the Pevious document in the view (view only)
[CTRL] + A
Selects All
[CTRL] + R
Toggles ruler On/Off
[CTRL] + Z
Undo last operation
For more shortcuts and more information on these keyboard shortcuts and their Macintosh equivalents, see Most commonly used keyboard shortcuts
Dig Deeper on Web Development for Lotus Notes Domino