Looking for something else?
Settings and Description:
Special thanks to Volker Rast at World Bank for supplying this notes.ini setting.
LOG
The log file events field by default is set to 40,000 characters. That's too large to fit in a variable in Lotus script to do any meaningful processing. There's a workaround by using an @Evaluate to pull in the full text field and then split it up into two variables, but that adds a huge amount of time to processing the log. It's much simpler to add the proper log setting in the NOTES.INI, changing the size to 20,000 or 30,000 characters (e.g., LOG=LOG.NSF,1,0,7,20000). Here is the description of the INI from the administration help db:

Download this free guide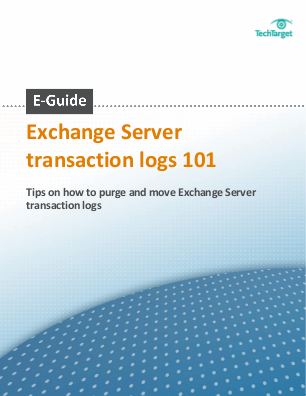 Download this strategic guide on moving Exchange Server transaction logs
Brush up on how log files have changed in Exchange to protect your setup against disaster, discover how to effectively purge transaction logs, and learn how to free up some of the disk space transaction logs have taken up on your drive.
By submitting your email address, you agree to receive emails regarding relevant topic offers from TechTarget and its partners. You can withdraw your consent at any time. Contact TechTarget at 275 Grove Street, Newton, MA.
You also agree that your personal information may be transferred and processed in the United States, and that you have read and agree to the Terms of Use and the Privacy Policy.


logfilename The log database file name, usually LOG.NSF
log_option Log options:
1 = Log to the console
2 = Force database fixup when opening the log file
4 = Full document scan

not_used Always set to zero; this parameter is not currently used
days The number of days to retain log documents
size The size of log text in event documents

Dig Deeper on Lotus Notes Domino Administration Tools