LotusScript agent moves new mail to folder
Use this LotusScript agent in a Lotus Notes mail-in database to move new mail to a specified folder.
after new mail has arrived
.
Continue Reading This Article
Enjoy this article as well as all of our content, including E-Guides, news, tips and more.
By submitting you agree to receive email communications from TechTarget and its partners. Privacy Policy Terms of Use.

However, processed documents may trigger an agent and bounce back from the folder to your inbox. To prevent this, modify your DeliveredDate field when the agent runs.
With this agent, information from the DeliveredDate field is copied to the NewDeliveredOn field and the DeliveredDate field is deleted.
Note: The Date and Who column formulas in the mail file (folders) will have to be modified accordingly:
Date column changes:
@If(DeliveredDate != ""; DeliveredDate; @IsAvailable("NewDeliveredOn"); 
NewDeliveredOn; PostedDate != ""; PostedDate; @Created)
Who column changes:
Who := @If((DeliveredDate != "" | @IsAvailable("NewDeliveredOn") | SendTo = "");
 SentBy; @Subset(SendTo; 1));
Note: The agent can be modified to include the CopyTo field as well.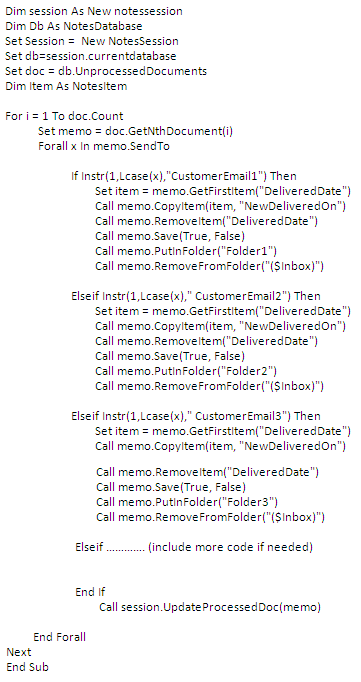 (Click on code for enlarged view and script download.)
Do you have comments on this tip? Let us know.
This tip was submitted to the SearchDomino.com tip library by member Vadim Roshass. Please let others know how useful it is via the rating scale below. Do you have a useful Lotus Notes/Domino technical tip or code snippet to share? Submit it to our monthly tip contest and you could win a prize.

Dig deeper on Lotus Notes Domino Agents