Make Sure To Update a Dialogbox
Looking for something else?
When you use a dialog box with OKCancel buttons set to false to use your own design buttons, you will be closing the window after finshing your purpose and you may want to update the parent document by using one of:

Download this free guide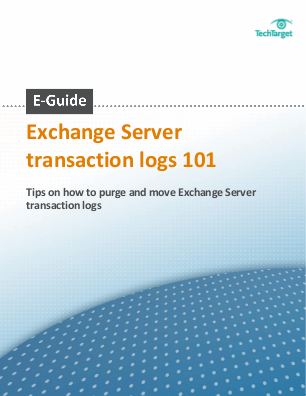 Download this strategic guide on moving Exchange Server transaction logs
Brush up on how log files have changed in Exchange to protect your setup against disaster, discover how to effectively purge transaction logs, and learn how to free up some of the disk space transaction logs have taken up on your drive.
By submitting your email address, you agree to receive emails regarding relevant topic offers from TechTarget and its partners. You can withdraw your consent at any time. Contact TechTarget at 275 Grove Street, Newton, MA.
You also agree that your personal information may be transferred and processed in the United States, and that you have read and agree to the Terms of Use and the Privacy Policy.

1. @Command([RefreshParentNote]).
2. Call uidoc.RefreshParentNote.
In this case, if the user presses the <Enter> key after finshing, then the dialog will close without updating as if pressed <Esc> key. Knowingly that using (uidoc.Dialogboxcanceled) property is not useful because closing window in all cases is done as if the Cancel button is pressed.
Working around this point you can put an environment variable or a value for an Item on the document to use it in Queryclose to prevent closing the dialog only after pressing a button on the dialog.
Example:
The dialog has one button for Save and other one for Cancel
In Cancel key put the following:
Environment Cancel := "1"
@Command([FileCloseWindow])
And in Save button the following:
Environment Save := "1"
@Command([RefreshParentNote])
@Command([FileCloseWindow])
In Queryclose of the dialog form put:
dim s as new notessession
If s.GetEnvironmentString("Cancel") = "" And _ s.GetEnvironmentString("Save") = "" then
MsgBox "Please click 'Save' or 'Cancel' button", 16, "Close"
Continue = False
Exit Sub
Else
' reset the environment vars
call s.SetEnvironmentVar("Cancel", "")
call s.SetEnvironmentVar("Save", "") ' or you reset this var in the originated script according to the purpose
'here also you update other things you want or just to finish according to the dialog purposes.
'
'
End If
Sirry Hboos
Dig Deeper on Domino Resources - Part 5