Download this free guide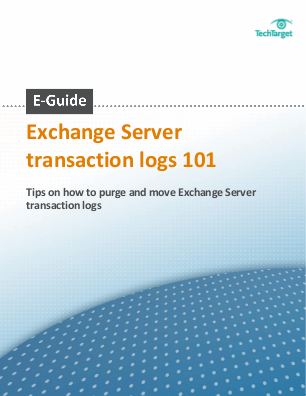 Download this strategic guide on moving Exchange Server transaction logs
Brush up on how log files have changed in Exchange to protect your setup against disaster, discover how to effectively purge transaction logs, and learn how to free up some of the disk space transaction logs have taken up on your drive.
By submitting your email address, you agree to receive emails regarding relevant topic offers from TechTarget and its partners. You can withdraw your consent at any time. Contact TechTarget at 275 Grove Street, Newton, MA.
You also agree that your personal information may be transferred and processed in the United States, and that you have read and agree to the Terms of Use and the Privacy Policy.

The LotusScript function "MkDir" is only able to make a folder if its immediate parent folder exists. For example, an error is generated if you try to make the folder C:DataSurveys if C:Data does not exist. This subroutine builds the path folder by folder by calling MkDir recursively.


%REM ========================================
Title   : CreatePath
By      : Peter Newman
Date    : 14/02/2001
Purpose : The LotusScript 
function "MkDir" is only able to
          make a folder if its immediate parent folder exists.
          For example, an error is generated if you try to
          make the folder C:DataSurveys if C:Data does not
          exist.  This subroutine builds the path folder by
          folder by calling MkDir recursively.
Param   : sPath as String -
               a fully qualified windows path :
               e.g. C:DataCollectionCycleLBU
%ENDREM ========================================

Sub CreatePath (sPath As String)
     Dim sTempPath As String
     Dim iPos As Integer

     On Error Goto Recurse
     Mkdir sPath
     Exit Sub

Recurse:
     iPos = 0
     Do
          iPos = Instr(iPos+1, sPath, "")
          If iPos > 0 Then sTempPath = Left(sPath, iPos-1)
     Loop Until iPos = 0
     CreatePath (sTempPath)
     Resume 0
End Sub

Dig Deeper on Domino Resources - Part 6