Need Address Book Lookup For The Web
Looking for something else?

Download this free guide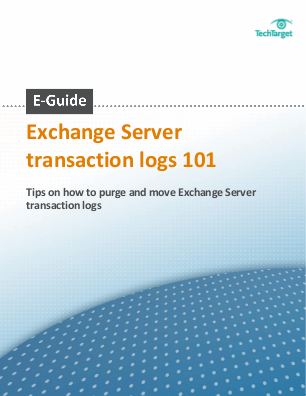 Download this strategic guide on moving Exchange Server transaction logs
Brush up on how log files have changed in Exchange to protect your setup against disaster, discover how to effectively purge transaction logs, and learn how to free up some of the disk space transaction logs have taken up on your drive.
By submitting your email address, you agree to receive emails regarding relevant topic offers from TechTarget and its partners. You can withdraw your consent at any time. Contact TechTarget at 275 Grove Street, Newton, MA.
You also agree that your personal information may be transferred and processed in the United States, and that you have read and agree to the Terms of Use and the Privacy Policy.

I use the undocumented command:
@DbCommand(Type;Command; TargetNAB; fieldname; max#; SearchString);
this command is used in the lotus web mail client. The command
LoadAddressListByName allows for you to enter a string such as "A" to go to the
first name that matches or LoadAddressListByIndex to pull by number in view.
Type - database to access, "Domino"
command - either "LoadAddressListByName" or "LoadAddressListByIndex"
TargetNAB -local address book on server "names.nsf"
Fieldname - fieldname in quotes of the field that will hold the address
selection list
max# - maximum entries to show in the list
search string / Index - If you use the "LoadAddressListByName" command then
the string placed here will cause the fuction to return the max entries
starting with the first match. other wise it's the starting index in the
address book. great for paging through.

The value returned will be an html selection list.
The action to get the selected name uses the following command:
FIELD tmpSendto :=@Name([Abbreviate];tmpAddressList)
This will return the abbreviated name if a notes user or the internet mail
address for all others
the command will return all the persons and groups that are mail enabled from
the n&a
tmpAddressList is computed text field just used as a place holder.

FIELD tmpSendTo :=@Name([Abbreviate];tmpAddressList);

@Command([ViewRefreshFields]);
@If(tmpSearchString = "";
@SetField(tmpCurIndex; @DbCommand("Domino"; "LoadAddressListByIndex";
TargetNAB; "tmpAddressList"; "200"; tmpCurIndex));
@SetField(tmpCurIndex; @DbCommand("Domino"; "LoadAddressListByName";
TargetNAB; "tmpAddressList"; "200"; tmpSearchString)));
FIELD tmpNextIndex := @Text( @TextToNumber(tmpCurIndex) +200 );
@Success.
Dig Deeper on Lotus Domino Directory