Non-scrolling previous/next buttons
Keep the previous and next buttons visible on the page.
Looking for something else?
Previous(@DbCommand("Domino"; "ViewPreviousPage")) and Next(@DbCommand("Domino"; "ViewNextPage")) buttons come handy when we need to limit the number of documents in an embedded view to be displayed on a single page. But then, shouldn't we stop scrolling of these buttons so that we could go to the next or previous screens anytime we want, without any scrolling up or down?

Download this free guide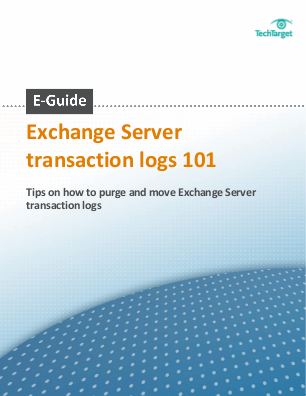 Download this strategic guide on moving Exchange Server transaction logs
Brush up on how log files have changed in Exchange to protect your setup against disaster, discover how to effectively purge transaction logs, and learn how to free up some of the disk space transaction logs have taken up on your drive.
By submitting your email address, you agree to receive emails regarding relevant topic offers from TechTarget and its partners. You can withdraw your consent at any time. Contact TechTarget at 275 Grove Street, Newton, MA.
You also agree that your personal information may be transferred and processed in the United States, and that you have read and agree to the Terms of Use and the Privacy Policy.

In your $$ViewTemplate form(with your embedded view) put the following code
<div id=waterMark style="POSITION: absolute; left:0px; top:30px; height:100px; width:780px; clip:rect(0,880,200,0)">

<!--Pass the above code through HTML-->

<!--Put your next and previous buttons here as hotspots preferably in a table and don't pass them through HTML-->

<!--Pass the code below through HTML-->
</div>

<SCRIPT language=JavaScript1.2>
<!--
markW = 122;       // pixels wide
markH = 403;       // pixels high
markRefresh = 20; // milliseconds

// set common object reference
if (!document.all) document.all = document;
if (!document.all.waterMark.style) document.all.waterMark.style = 
document.all.waterMark;

wMark = document.all.waterMark.style;
wMark.width = markW;
wMark.height = markH;
navDOM = window.innerHeight; // Nav DOM flag
 
function setVals() {
 barW = 0; // scrollbar compensation for PC Nav
 barH = 0;
 if (navDOM) {
  if (document.height > innerHeight) barW = 20;
  if (document.width > innerWidth) barH = 20;
  } else {
  innerWidth = document.body.clientWidth;
  innerHeight = document.body.clientHeight;
  }

   posX = 10;
   posY = 10;
   
 }

function wRefresh() {
 wMark.left = posX + (navDOM?pageXOffset:document.body.scrollLeft);
 wMark.top = posY + (navDOM?pageYOffset:document.body.scrollTop);
 }

function markMe() {
        if (screen.width > 640 ) {

             
    setVals();
    window.onresize=setVals;
    markID = setInterval ("wRefresh()",markRefresh);
    }    
 }

    window.onload=markMe; // safety for Mac IE4.5

//-->
</SCRIPT> 

<!--Embedd your view here-->

And you as scroll through the documents displayed in the embedded view, you can at any point of time access the next/previos button, because they don't scroll!!!!!
Dig Deeper on Domino Resources - Part 7