Parse query from URL
This tip describes how to parse a query string from the URL in a form using a CGI server variable.
Looking for something else?

Download this free guide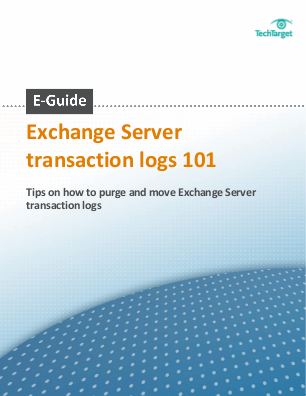 Download this strategic guide on moving Exchange Server transaction logs
Brush up on how log files have changed in Exchange to protect your setup against disaster, discover how to effectively purge transaction logs, and learn how to free up some of the disk space transaction logs have taken up on your drive.
By submitting your email address, you agree to receive emails regarding relevant topic offers from TechTarget and its partners. You can withdraw your consent at any time. Contact TechTarget at 275 Grove Street, Newton, MA.
You also agree that your personal information may be transferred and processed in the United States, and that you have read and agree to the Terms of Use and the Privacy Policy.

Sometimes you need to parse a query string from the URL right in the form. One solution is to use a CGI server variable.
Create a new computed when composed text field called query_string containing itself -- query_string. It causes a Web server to input content of the CGI Web server query_string variable (everything beyond the ? in the URL).

Then create a new computed for display only multi-value text field called "parameters," for instance. This field should contain the following @Formula:


@Explode(@Right
(query_string; "&"); "&")


This separates all name=value type sequences into multi-value ones and omits the URL commands beyond the ?.

Then create two new computed for display multi-value text fields called "ParamNames" and "ParamValues," for instance, and containing the following @Formulas:


@Word(Parameters; "="; 1) 
and 
@Word(Parameters; "="; 2)


There are split values from names.

Then it's possible to search for a particular name in ParamNames using:


@If(@IsMember("Required_Name";
 ParamNames); @Subset(@Subset
(ParamValues; @Member
("Required_Name"; ParamNames)); -1); 
"Not present")
Function will return then the appropriate value or "Not present" (or anything else if you change it), if "key" name is not present in the URL. You can upgrade functionality by converting names to upper- or lowercase to avoid name variations. None of those fields, except query_string, will be saved, but this could be handled in web_query_save agent then.

Do you have comments on this tip? Let us know.
Dig Deeper on Lotus Notes Domino Formula Language