Parsing URL Parameters Simply
Looking for something else?
One of my projects required sending of some parameters to documents or agents via URL. I didn't want to write some long code and even I wanted to reuse it in script and with minor changes in formulas, if possible.

Download this free guide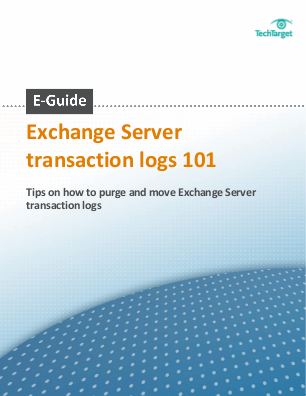 Download this strategic guide on moving Exchange Server transaction logs
Brush up on how log files have changed in Exchange to protect your setup against disaster, discover how to effectively purge transaction logs, and learn how to free up some of the disk space transaction logs have taken up on your drive.
By submitting your email address, you agree to receive emails regarding relevant topic offers from TechTarget and its partners. You can withdraw your consent at any time. Contact TechTarget at 275 Grove Street, Newton, MA.
You also agree that your personal information may be transferred and processed in the United States, and that you have read and agree to the Terms of Use and the Privacy Policy.

Code for LS:

Dim Session As NotesSession
Dim Doc As NotesDocument

Dim Prms, Nms, Vls

Sub ParseQueryParams(S, Params)
' Function simply parses 
' string delimited by '&' into
' vector of values in form
' NAME=VALUE

Params = Evaluate("@Explode(@Right(""" & S & """; ""&""); ""&"")")
End Sub

Sub ParseQueryParams_NameValue(S, Names, Values)
' Function simply parses 
' string delimited by '&' into
' 2 vectors of names
' and values

Names = Evaluate("@Word(@Explode(@Right(""" & S & """; ""&""); ""&""); ""=""; 1)")
Values = Evaluate("@Word(@Explode(@Right(""" & S & """; ""&""); ""&""); ""=""; 2)")
End Sub

Sub Initialize
Set Session = New NotesSession

' Following row will get Document
' which is passed to agent
Set Doc = Session.DocumentContext
	
' Following row processes
' Query_String_Decoded CGI variable
' passed to agent
' and returns vector 
' of NAME=VALUE
Call ParseQueryParams(Doc.Query_String_Decoded(0), Prms) 

' Following row processes
' Query_String_Decoded CGI variable
' passed to agent
' and returns 2 vectors 
' with names and values
Call ParseQueryParams_NameValue(Doc.Query_String_Decoded(0), Nms, Vls) 

End Sub



When it's required to parse parameters in document, it's possible to parse
parameters accordingly in formulas (note that Query_String_Decoded field of
text type, even computed for display, MUST exist in form:






Parameters := @Explode(@Right(Query_String_Decoded; "&"); "&");
ParamNames := @Word(Parameters; "="; 1);
ParamValues := @Word(Parameters; "="; 2);


 
Dig Deeper on Domino Resources - Part 4