Passing Domino text to Flash
Pass text to your Flash presentation.
Looking for something else?
Passing Domino text and URL information to a Flash front-end.
First we create an individual Flash text area for each Domino document whose values we wanted to import. This gave us a unique URL for each text field. We use the same variable in each case.

Download this free guide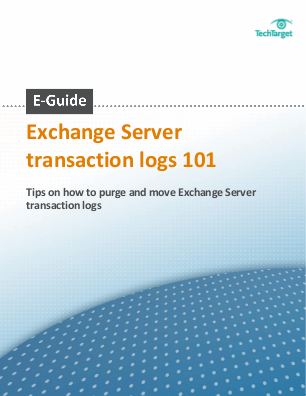 Download this strategic guide on moving Exchange Server transaction logs
Brush up on how log files have changed in Exchange to protect your setup against disaster, discover how to effectively purge transaction logs, and learn how to free up some of the disk space transaction logs have taken up on your drive.
By submitting your email address, you agree to receive emails regarding relevant topic offers from TechTarget and its partners. You can withdraw your consent at any time. Contact TechTarget at 275 Grove Street, Newton, MA.
You also agree that your personal information may be transferred and processed in the United States, and that you have read and agree to the Terms of Use and the Privacy Policy.

Adjust the Flash movie to suit your use.
Using a Pass Thru HTML Computed Text field, assign a variable name using a space and an ampersand "&".
That's it! Voila, Flash front end with dynamic text!
Flash Text Field Parameters:
Dynamic Text
Variable = Var
HTML Checked
WordWrap Checked
The code below gives us four text fields, two of which combine into HTML anchored text.
The URL field contains a working URL.
TextField3 becomes the anchor.
" &Var=" + TextField1 + "<br>" + TextField2 + "<a href=" + """ + URLField +"">" + "<br>" + TextField3 + "</a>"
Dig Deeper on Domino Resources - Part 7