Pre-validating credit card numbers

Download this free guide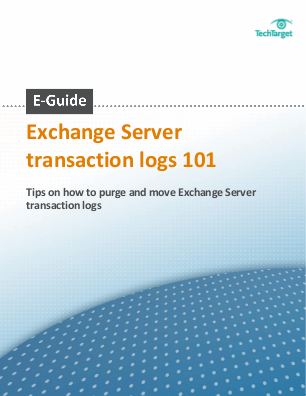 Download this strategic guide on moving Exchange Server transaction logs
Brush up on how log files have changed in Exchange to protect your setup against disaster, discover how to effectively purge transaction logs, and learn how to free up some of the disk space transaction logs have taken up on your drive.
By submitting your email address, you agree to receive emails regarding relevant topic offers from TechTarget and its partners. You can withdraw your consent at any time. Contact TechTarget at 275 Grove Street, Newton, MA.
You also agree that your personal information may be transferred and processed in the United States, and that you have read and agree to the Terms of Use and the Privacy Policy.

Here's a quick way to cut down on credit card processing time. The following function checks the validity of credit card numbers. If the number is in valid format, that does not mean that the credit card is valid, only that the number combination is valid. This can save you a lot of valuable credit card processing time. If the number is in a valid format, the function returns "True"; if the number is in an invalid format, it returns "False". This algorithm should work with all credit cards. You can easily use this function in Common Gateway Interface (CGI) forms that process credit card orders.


Function CheckCard(CCNumber As String) As Boolean
Dim Counter As Integer, TmpInt As Integer
Dim Answer As Integer

Counter = 1
TmpInt = 0

While Counter < = Len(CCNumber)
If IsEven(Len(CCNumber)) Then
TmpInt = Val(Mid$(CCNumber, Counter, 1))
If Not IsEven(Counter) Then
TmpInt = TmpInt * 2
If TmpInt > 9 Then TmpInt = TmpInt - 9
End If
Answer = Answer + TmpInt
'Debug.Print Counter, TmpInt, Answer
Counter = Counter + 1
Else
TmpInt = Val(Mid$(CCNumber, Counter, 1))
If IsEven(Counter) Then
TmpInt = TmpInt * 2
If TmpInt > 9 Then TmpInt = TmpInt - 9
End If
Answer = Answer + TmpInt
'Debug.Print Counter, TmpInt, Answer
Counter = Counter + 1
End If
Wend

Answer = Answer Mod 10

If Answer = 0 Then CheckCard = True
End Function

Dig Deeper on Domino Resources