Looking for something else?
Here's a button I use in lots of my databases -- you need MS Word 97 or 2000 to use it, and to know the label media code (Word handles 100s of these). It works with selected or all documents in a view.
Sub CreateMailingLabels(Line1Fields As Variant,Line2Fields As Variant,Line3Fields As Variant,Line4Fields As Variant,Line5Fields As Variant)


Download this free guide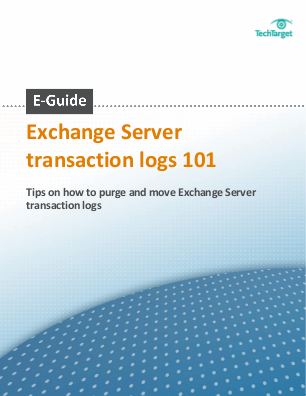 Download this strategic guide on moving Exchange Server transaction logs
Brush up on how log files have changed in Exchange to protect your setup against disaster, discover how to effectively purge transaction logs, and learn how to free up some of the disk space transaction logs have taken up on your drive.
By submitting your email address, you agree to receive emails regarding relevant topic offers from TechTarget and its partners. You can withdraw your consent at any time. Contact TechTarget at 275 Grove Street, Newton, MA.
You also agree that your personal information may be transferred and processed in the United States, and that you have read and agree to the Terms of Use and the Privacy Policy.

' requires MS Word 97 or Word 2000
' works on any Notes view or folder
' supply list of Notes field names to be concatenated onto each line of the
' label in the parameters Line1Fields etc
'
' e.g.
'
' Call CreateMailingLabels
'("FirstName,LastName","HouseNo,Street","Town","County","PostCode")

On Error Goto ErrorProc

' declare Notes back-end objects
Dim session As New notessession
Dim db As notesdatabase
Dim doc As NotesDocument
Dim dc As NotesDocumentCollection
Set db = session.currentdatabase
Dim settings As NotesDocument
Set settings=db.GetProfileDocument("Settings","")

' declare Notes front-end objects
Dim ws As New NotesUIWorkspace

Set dc=db.UnProcessedDocuments

' Find out active Notes view
Dim view As notesview
Dim UIView As NotesUIView
Set view = UIView.View

' declare constants

wdCell = 12 'Microsoft Word VBA constant. Designates unit for table cell.
wdLine=5
wdCustomLabelA4 = 2
cr = Chr(13) & Chr(10) ' Carriage return.

SelectedDocuments=Messagebox("Do you want to use all the addresses in this view?",35,db.Title)
If SelectedDocuments=2 Then
Messagebox "Merge Cancelled",16,db.Title
Exit Sub
End If

If SelectedDocuments=7 Then
TickBased%=True
End If
' get required template from user

LabelTemplate = Inputbox("Please enter the MS Word mailing label name to use. ", db.Title,"Avery L7413")

' trim off "Avery" prefix if used
LabelTemplateName=LabelTemplate
If Left$(LabelTemplate,5)="Avery" Then
LabelTemplate=Trim$(Right$(LabelTemplate,Len(LabelTemplate)-5))
End If
If Instr(LabelTemplate,"-")>1 Then
LabelTemplate=Trim$(Left$(LabelTemplate,Instr(LabelTemplate,"-")-1))
End If
If LabelTemplate="" Then
Messagebox "Merge Cancelled",16,db.Title
Exit Sub
End If

' Create an instance of Excel
Dim wrd As Variant
Set wrd = CreateObject("word.application")

' create a new Word document only if required
If wrd.documents.count=0 Then
Call wrd.documents.add
End If

' create new mailing lanels
Print "Generating ";LabelTemplateName;" mailing labels in MS Word"
On Error Goto TrapTemplateName
Call wrd.MailingLabel.CreateNewDocument(LabelTemplate)
On Error Goto ErrorProc

' create each mailing label from line of Notes view

LabelCount!=0
If TickBased% Then
Set doc=dc.GetFirstDocument
Else
Set doc=view.GetFirstDocument
End If
While Not doc Is Nothing

' build label text

LabelAddress = GetListFieldValues(doc,Line1Fields) & cr
LabelAddress = LabelAddress & GetListFieldValues(doc,Line2Fields) & cr
LabelAddress = LabelAddress & GetListFieldValues(doc,Line3Fields) & cr
LabelAddress = LabelAddress & GetListFieldValues(doc,Line4Fields) & cr
LabelAddress = LabelAddress & GetListFieldValues(doc,Line5Fields)

If Not SingleColumn% Then
Call wrd.Selection.TypeText(LabelAddress) ' Insert full address into Word.
On Error Goto TrapSingleColumn
Call wrd.Selection.MoveRight(wdCell) ' Move one cell to the right.
On Error Goto ErrorProc
If SingleColumn% Then
Call wrd.MailingLabel.CreateNewDocument(LabelTemplate,LabelAddress)
End If
Else
Call wrd.MailingLabel.CreateNewDocument(LabelTemplate,LabelAddress)
End If
LabelCount!=LabelCount!+1
If TickBased% Then
Set doc = dc.GetNextDocument(doc)
Else
Set doc = view.GetNextDocument(doc)
End If
Wend
If TickBased% Then
Print LabelCount!;" labels created from selected addresses"
Else
Print LabelCount!;" labels created from this Notes view (";SheetTitle$;")"
End If
REM Make the instance visible to the user
wrd.visible = True

Exit Sub
TrapTemplateName:
Messagebox "Incorrect Template Name",16,db.Title
Exit Sub

TrapSingleColumn:
Print "Detected non-table labels and changing behaviour accordingly"
SingleColumn%=True
Resume Next
ErrorProc:
Print "(";Erl;") ";Error$
Resume Next

End Sub
Function GetListFieldValues(doc As NotesDocument, FieldList As Variant) As String
Dim TempList As String
Dim TempOutput As String
Dim TempArray As Variant
Dim ThisField As String

TempList=FieldList
TempOutput=""
If TempList<>"" Then
' parse list of fields
While Len(TempList)>0
If Instr(TempList,",")>0 Then
ThisField=Trim(Left$(TempList,Instr(TempList,",")-1))
TempList=Right$(TempList,Len(TempList)-Instr(TempList,","))
Else
ThisField=Trim(TempList)
TempList=""
End If
' retrieve notes field
If Instr(ThisField,"(")>0 And Instr(ThisField,")")>0 Then
ThisFieldTemp$=Right$(ThisField,Len(ThisField)-Instr(ThisField,"("))
ThisFieldIndex%=Val(Left$(ThisFieldTemp$,Len(ThisFieldTemp$)-1))
ThisField=Left$(ThisField,Instr(ThisField,"(")-1)
Else
ThisFieldIndex%=-1
End If
TempArray=doc.GetItemValue(ThisField)
If ThisFieldIndex%>=0 Then
If Ubound(TempArray)>=ThisFieldIndex% Then
TempOutput=TempOutput+" "+TempArray(ThisFieldIndex%)
End If
Else
TempOutput=TempOutput+" "+TempArray(0)
End If
Wend
End If
GetListFieldValues=TempOutput
End Function

Dig Deeper on Domino Resources - Part 5