Problems with cached pages in IE 5
Looking for something else?



Even if you add meta tags with EXPIRES and NON-CACHE, the page is still cached with IE 5.


I found following text from Microsoft:

A page that Internet Explorer 5 is browsing is not cached until half of the 64 KB buffer is filled. Usually, metatags are inserted in the header section of an HTML document, which appears at the beginning of the document. When the HTML code is parsed, it is read from top to bottom. When the <HTTP-EQUIV="PRAGMA" CONTENT="NO-CACHE"> metatag is read, Internet Explorer looks for the existence of the page in cache at that exact moment. If it is there, it is removed.

Download this free guide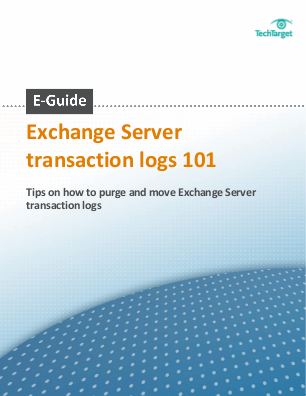 Download this strategic guide on moving Exchange Server transaction logs
Brush up on how log files have changed in Exchange to protect your setup against disaster, discover how to effectively purge transaction logs, and learn how to free up some of the disk space transaction logs have taken up on your drive.
By submitting your email address, you agree to receive emails regarding relevant topic offers from TechTarget and its partners. You can withdraw your consent at any time. Contact TechTarget at 275 Grove Street, Newton, MA.
You also agree that your personal information may be transferred and processed in the United States, and that you have read and agree to the Terms of Use and the Privacy Policy.



The solutions is to place another header section at the end of the HTML document.
For example:

< HTML>

< HEAD>

< META HTTP-EQUIV="REFRESH" CONTENT="5">
< TITLE> Pragma No-cache < /TITLE>
< /HEAD>

< BODY>

This is an example of where to place the second header section
so that the "Pragama, No-Cache" metatag will work as it is supposed to.

< /BODY>

< HEAD>

< META HTTP-EQUIV="PRAGMA" CONTENT="NO-CACHE">
< /HEAD>

</HTML>
Dig Deeper on Domino Resources - Part 7