Programmable Table Problem
Looking for something else?

Download this free guide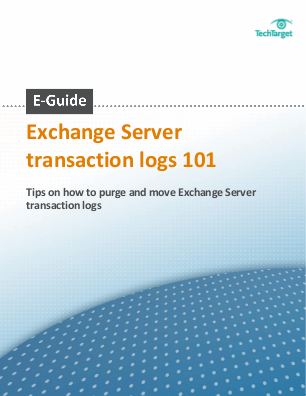 Download this strategic guide on moving Exchange Server transaction logs
Brush up on how log files have changed in Exchange to protect your setup against disaster, discover how to effectively purge transaction logs, and learn how to free up some of the disk space transaction logs have taken up on your drive.
By submitting your email address, you agree to receive emails regarding relevant topic offers from TechTarget and its partners. You can withdraw your consent at any time. Contact TechTarget at 275 Grove Street, Newton, MA.
You also agree that your personal information may be transferred and processed in the United States, and that you have read and agree to the Terms of Use and the Privacy Policy.

I ran across this problem in R5. I made a tabbed programmable table on a
form. I then placed a nested basic table inside each tab of the tabbed table.
Several fields are contained within the cells of the basic tables. The problem
occurs whenever a keyword field inside a basic table cell is set to "refresh
fields on keyword change".
Whenever the keyword is changed and a refresh occurs the cursor is
automatically returned to the first field of the first tab that is inside the
basic table.

This problem only seems to occur on programmable tables and/or if the keyword
field is inside a basic table. If the keyword field is outside the basic table
but still on a tab, it works fine.
To recreate this problem:
1. Create a programmable table (2 x 1)
2. Create a basic table on each tab (2 x2)
3. place text fields and one keyword field inside the basic table's cells
4. Set the "Refresh fields on keywords change" property of the keyword field.
5. Create the form and place the cursor in a text field, then click on the
keyword field to cause the refresh.
6. The cursor, for some reason, moves to the first field on the first tab of
the programmable table.
Dig Deeper on Lotus Notes Domino Administration Tools