Properly print Office docs with Office Library templates
How to get around the Office Library template bug that doesn't let you print the Office documents correctly.
Looking for something else?
Here's how to print a document only once, when you are using the Office Library template.
The Office Library template has a bug (v5 and v6) that doesn't correctly print Office documents. Due to this bug, if you print a Word or Excel document, the document will be printed twice. This bug has been reported to Lotus development, but it hasn't been solved yet.
In order to solve this problem you can create a new action named "Print Document" in each form: (Paintbrush document, Word document, ExcelWorksheet document, PowerPoint document) with the following code.

Download this free guide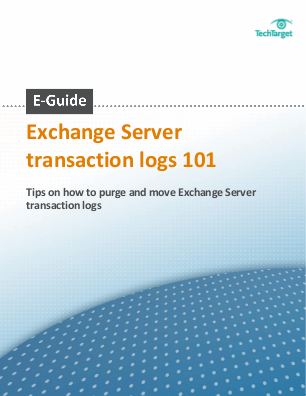 Download this strategic guide on moving Exchange Server transaction logs
Brush up on how log files have changed in Exchange to protect your setup against disaster, discover how to effectively purge transaction logs, and learn how to free up some of the disk space transaction logs have taken up on your drive.
By submitting your email address, you agree to receive emails regarding relevant topic offers from TechTarget and its partners. You can withdraw your consent at any time. Contact TechTarget at 275 Grove Street, Newton, MA.
You also agree that your personal information may be transferred and processed in the United States, and that you have read and agree to the Terms of Use and the Privacy Policy.

Two notes:
This "Print Action" runs for Office documents and Notes documents. You can use it as a shared action, and use the same action for all documents (Notes and Office).

It is necessary before printing a Office document that you save the document. In order to prevent errors, the action would be hidden for new documents (Hide when -> @IsNewDoc)

Sub Click(Source As Button)
 Dim workspace As New 
NotesUIWorkspace
 Dim uidoc As NotesUIDocument
 Dim doc As NotesDocument
 
 
 Set uidoc = workspace.currentDocument
 Set doc = uidoc.document
 
 If Not doc.HasEmbedded Then
                                'Print the Notes Document
  Call uidoc.print  
 Else 
                                'Print the Office Document
  Forall object In doc.EmbeddedObjects
   Set handle = object.Activate(True) 
   handle.PrintOut
  End Forall 
 End If
End Sub

Dig Deeper on LotusScript