"Real And Secure Record-Lock" Is Only For A Small Non-Distributed Environment
Looking for something else?

Download this free guide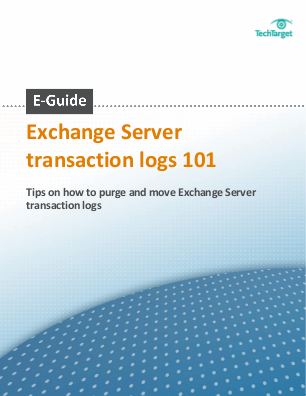 Download this strategic guide on moving Exchange Server transaction logs
Brush up on how log files have changed in Exchange to protect your setup against disaster, discover how to effectively purge transaction logs, and learn how to free up some of the disk space transaction logs have taken up on your drive.
By submitting your email address, you agree to receive emails regarding relevant topic offers from TechTarget and its partners. You can withdraw your consent at any time. Contact TechTarget at 275 Grove Street, Newton, MA.
You also agree that your personal information may be transferred and processed in the United States, and that you have read and agree to the Terms of Use and the Privacy Policy.

I am writing to reply the "Real and secure Record-Lock" article. The strategy
that the article described only works for a small non-distributed (no
replication happen on the database between servers) database. Why ? Let me
explain it. First of all, Because the entire method is depending on a "lockdoc"
which capture the unique document number of the original at the time the
document is being edited. Think about people is making change on the same
document that reside on different replica copy. The process will fail.
Secondly, if system crash during the edition of the document, then, an
un-wanted "lockdoc" will stay with the system and user will always get "lock"
message on that document all the time.

People is trying hard to do bullet-prove record locking strategy in Lotus Notes
database. But you have to remember the strength of Lotus Notes.

Dig Deeper on LotusScript