Response document
intimate the user if a response document has been created against his parent document in the Discussion Database
Looking for something else?
You Can View User Feedback To This Tip

Use this tip to intimate the user if a response document has been created against his parent document in the Discussion Database
Open the Response Form & do the following:

1)create a field called "parent" Put the following Code in it:

@DbLookup("":"NoCache";@Subset(@DbName;1):@Subset(@DbName;-1);"parent child";MainID;"AltFrom")

Note: AltFrom is an already existing field in the "Main Topic Form"

2) Create a view called "parentchild", create the first categorized column & name it as Main ID, map the column value with the already available field called "MainID"
Note: MainID is an already existing field in the "Main Topic Form"

Download this free guide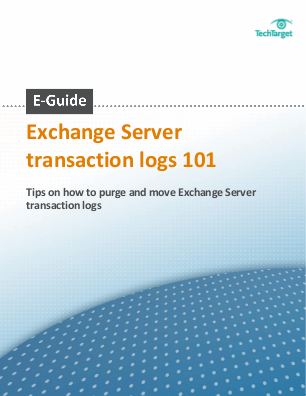 Download this strategic guide on moving Exchange Server transaction logs
Brush up on how log files have changed in Exchange to protect your setup against disaster, discover how to effectively purge transaction logs, and learn how to free up some of the disk space transaction logs have taken up on your drive.
By submitting your email address, you agree to receive emails regarding relevant topic offers from TechTarget and its partners. You can withdraw your consent at any time. Contact TechTarget at 275 Grove Street, Newton, MA.
You also agree that your personal information may be transferred and processed in the United States, and that you have read and agree to the Terms of Use and the Privacy Policy.

3) Create a save & close (delete the default shared action "save & close" ) button on the , & write the below code on it:

@Do(@Command([FileSave]);@Command([FileCloseWindow]);
@MailSend(parent;"";"";"A response has been posted against your document
 in Discussion Database by "+" " + @Name([CN];@Author);"";"Please
click at the doclink to access the Response 
Document-->";[IncludeDoclink]))
Open the "Response to Response" Form & do the following:
1)Copy this parent field from Response doc

2)Repeat step 3 in this form also.
Regarding the tip for sending an email to the poster of a main topic in a discussion database, the poster includes the following formula: @DbLookup("":"NoCache";@Subset(@DbName;1):@Subset(@DbName;-1);"parent child";MainID;"AltFrom") This formula relies upon a view that sorts the documents upon the field "MainID". A couple of comments about this formula: 1) The expression "@Subset(@DbName;1):@Subset(@DbName;-1)" is the hard way to specify which database to use. The author can simply use "@DbName" instead. 2) The purpose of the formula seems to be to obtain Notes ID of the person who posted the parent document. To do this, it does a lookup on a field called "MainID." However, the author never tells us what formula to put in the "MainID" field, or that the "AltFrom" field, which is the value returned by the lookup, should be set to the Notes ID of the poster of the document. —Anthony Vitabile
Dig Deeper on Domino Resources - Part 5