Looking for something else?
In my Domino web applications, I like to use pop-up boxes to edit different groups of fields on a document. For example, I might have a tabbed form with 5 related fields on each tab. To edit each tab's fields, I use pop-up forms. This lets me enforce some security, show/hide different contextual menu choices, present only the editable form to those users who can access it, etc.

Download this free guide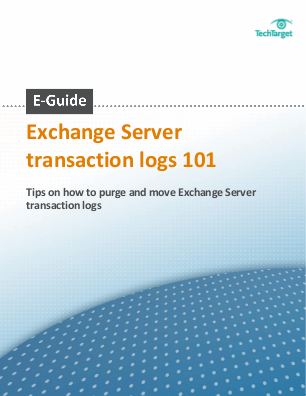 Download this strategic guide on moving Exchange Server transaction logs
Brush up on how log files have changed in Exchange to protect your setup against disaster, discover how to effectively purge transaction logs, and learn how to free up some of the disk space transaction logs have taken up on your drive.
By submitting your email address, you agree to receive emails regarding relevant topic offers from TechTarget and its partners. You can withdraw your consent at any time. Contact TechTarget at 275 Grove Street, Newton, MA.
You also agree that your personal information may be transferred and processed in the United States, and that you have read and agree to the Terms of Use and the Privacy Policy.

In doing this, I don't much care for the $$Return field since different things can happen when the user submits the form. (Besides, complex formulas can get pretty messy and difficult to read once the development cycle is complete.) For instance, if I'm using Domino to capture data and then sending that data off to a relational database, the update can succeed or fail. If it fails, I need a smooth way to inform the user. If it succeeds, I need to refresh the 'read only' form / frames to reflect the results.

Enter this tiered approach to keeping everything in sync. It is simple to implement and lets you pass Javascript back to your pop-up form based on an agent's run-time environment.
It's based on a couple of different elements:
1. Put a hidden field on your pop-up form called 'ReloadString'
2. Before the pop-up form is saved, store javascript in ReloadString that you want to happen if the save is successful e.g. "window.opener.location='/db.nsf/view/docid?Opendocument'"
3. For the pop-up form's WebQuerySave event, enter an agent to run against the saved data.
4. In the agent, do whatever you need to do to the saved data i.e. save it via ODBC to a relational database, update some other documents based on the saved data, etc.>
5. At the end of your agent, if all is well, send the javascript in the ReloadString field back to the pop-up form via print statements e.g.
Print "<html><body><script>(contents of ReloadString);window.close;</script></body></html>"
If all is not well, send back the error or other information via a Print statement e.g.
Print "<html><Head>Error</Head><Body>Could not update the data on datasource MyDatasource. Record not saved.</Body></Html>"
This will let your pop-up window manipulate other browser windows and then close itself. This is really handy if you have a form with embedded Layers or IFRAMES that invoke pop-up forms. The user can change data from one frame and, if the update succeeds, see those changes reflected in the other frames/layers.
Dig Deeper on Domino Resources - Part 2