Rollovers and @formulas, simple
An easier way to use action hotspots for an @formula
Looking for something else?
This is not rocket science but I think a handy tip. After seeing and using the tip here for using action hotspots for an @formula and then extracting the onclick value and using it in JavaScript, I thought of an easier way to do some of the functionality.

Download this free guide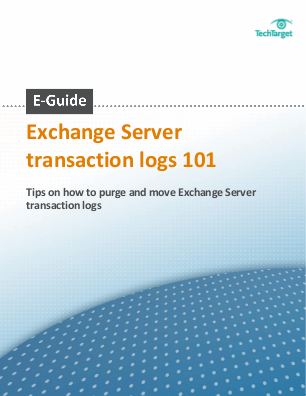 Download this strategic guide on moving Exchange Server transaction logs
Brush up on how log files have changed in Exchange to protect your setup against disaster, discover how to effectively purge transaction logs, and learn how to free up some of the disk space transaction logs have taken up on your drive.
By submitting your email address, you agree to receive emails regarding relevant topic offers from TechTarget and its partners. You can withdraw your consent at any time. Contact TechTarget at 275 Grove Street, Newton, MA.
You also agree that your personal information may be transferred and processed in the United States, and that you have read and agree to the Terms of Use and the Privacy Policy.

The other method is still good for when you need to use a lot of javascript but I use this tip for say a Save button or Cancel. Even opening another form etc etc.
An added bonus!! You also get the groovy finger pointer happening instead of just the mouse arrow!!
Place your picture, button graphic etc on your form. Put all your javascript code in, onMouseOut,onClick etc. if desired.
Highlight your graphic, create an action hotspot and put your @formula in it.
This way you get the javascript functionality and the @formula functionality.
In my example I have a pop-up window to enter some information. I want to save the document in the pop-up, close the pop-up window and change the graphic on the main from a 'cross' to a 'tick'.
Picture - 
// "type" is a field on the mainform that holds the value of the associated graphic id

onClick
var name = document.forms[0].type.value;
eval("opener.document." + name + ".src='ok'");
window.close()

onMouseOut
document.forms[0].save.src = "saveoff";
//Using alias of Image Resource

onMouseOver
document.forms[0].save.src = "saveon";

HotSpot (which is over the Picture)
@Command([FileSave])
Dig Deeper on Lotus Notes Domino Administration Tools