Run Server Utilities on the client
Looking for something else?
Many System Administrators have figured this out already, but many have not.

IF you're Domino Server runs on a Windows NT or Windows 2000 platform AND if you're Lotus Notes clients are installed on Windows 95, 98, 2000, or ME computers, you can do the following:

Download this free guide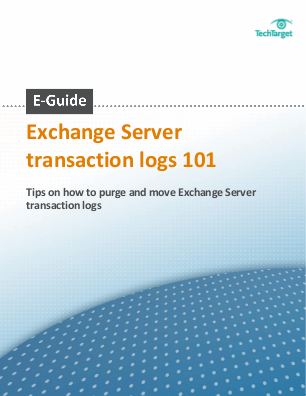 Download this strategic guide on moving Exchange Server transaction logs
Brush up on how log files have changed in Exchange to protect your setup against disaster, discover how to effectively purge transaction logs, and learn how to free up some of the disk space transaction logs have taken up on your drive.
By submitting your email address, you agree to receive emails regarding relevant topic offers from TechTarget and its partners. You can withdraw your consent at any time. Contact TechTarget at 275 Grove Street, Newton, MA.
You also agree that your personal information may be transferred and processed in the United States, and that you have read and agree to the Terms of Use and the Privacy Policy.

Copy the files nfixup.exe AND ncompact.exe from your R5 Domino servers LotusDomino directory (or R4's notes directory) to a floppy or network folder.
Then paste these files into any of your users R5 Notes Clients Lotusnotes directories (or R4.x's notes directory).
ONLY do this with similar platform versions of Domino and Notes. For example, it would be fine to copy an R5 Domino Server's copy of nfixup.exe and place it in an R5 Notes client program directory. But it would NOT be alright to use this with an R4.x Notes client.
With Lotus Notes closed, navigate to the program directory, and run
NFixup.exe
NCompact.exe -B (the -B switch is in R5 only . . . it uses In-Place compaction and reduces the file size)
NUpdall.exe -R (Updall does come with the Notes client. Using the -R switch will rebuild all full text indexes).
After you've done this, if you really want to go the extra mile for your end users, run Windows Defrag, or Norton Utilities Speed Disk.
When all is said and done, your end users should now have more room on their computers hard drive. They should also notice significant improvement in their local Lotus Notes client performance.
Run these utilities on average once a month or as desired.
Good Luck!
REMEMBER, this is for Windows based Servers to Windows based Workstations. Other Operating Systems or mixed Operating Systems (UNIX servers / Windows workstations) should not be tried.

Dig Deeper on Lotus Notes 5