Saving agents for unprocessed docs
This tip describes saving agents for unprocessed docs.
Looking for something else?
Don't you hate the way ALL docs get reprocessed whenever you resave an agent designed to run against new or modified docs? If an agent has been in production a long time, any small design change will cause it to run against a zillion documents. A good solution to this is to add an IF statement to skip out if the number of unprocessed docs is out of the expected range. Be careful not to set the limit too low or it will skip processing certain docs when mass changes are done (although that may be preferable for some agents). Also when you set the threshold, consider what will happen if replication between remote servers doesn't take place for a few days. Here is simplified code that can be added near the top of your agent.

Download this free guide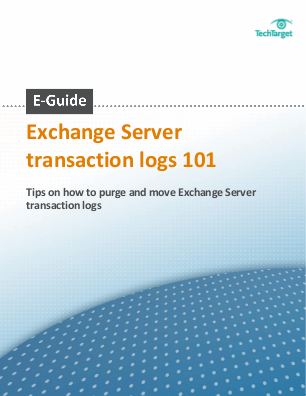 Download this strategic guide on moving Exchange Server transaction logs
Brush up on how log files have changed in Exchange to protect your setup against disaster, discover how to effectively purge transaction logs, and learn how to free up some of the disk space transaction logs have taken up on your drive.
By submitting your email address, you agree to receive emails regarding relevant topic offers from TechTarget and its partners. You can withdraw your consent at any time. Contact TechTarget at 275 Grove Street, Newton, MA.
You also agree that your personal information may be transferred and processed in the United States, and that you have read and agree to the Terms of Use and the Privacy Policy.


nThreshold = 100 ' set this
 parameter within the realm of a realistic range
If collection.Count > nThreshold Then
 Print "too many to process"
 Call collection.UpdateAll ' don't even
 try to do them all -- useful after resaving the agent!
 Exit Sub
End If
  

Dig Deeper on LotusScript