Secure Microsoft Excel spreadsheets with LotusScript
Want to protect your Microsoft Excel spreadsheets from tampering? This LotusScript code from SearchDomino.com member Prasad Knair programmatically lets you secure a Microsoft Excel file with a password and prohibit what columns can be edited.
Looking for something else?
Want to protect Microsoft Excel spreadsheets from tampering? This LotusScript code only allows users to edit columns that you specify as permitted. Other columns can be locked programmatically, and the Microsoft Excel file will be protected with a password. The only way for the secured columns to be edited is for the user to know the password and edit them after entering it.

Download this free guide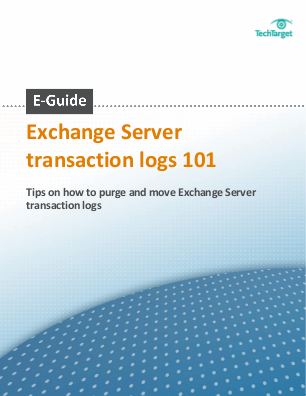 Download this strategic guide on moving Exchange Server transaction logs
Brush up on how log files have changed in Exchange to protect your setup against disaster, discover how to effectively purge transaction logs, and learn how to free up some of the disk space transaction logs have taken up on your drive.
By submitting your email address, you agree to receive emails regarding relevant topic offers from TechTarget and its partners. You can withdraw your consent at any time. Contact TechTarget at 275 Grove Street, Newton, MA.
You also agree that your personal information may be transferred and processed in the United States, and that you have read and agree to the Terms of Use and the Privacy Policy.


'Setting the Excel object.  
 
Set ExcelApp = CreateObject("Excel.Application")
Set ExcelWorkbook = 
ExcelApp.Workbooks.Open("C:TempTest.xls") 
Set ExcelWorksheet = 
ExcelWorkbook.Application.Workbooks(1).Worksheets(1)
' You can enter the values and once 
the entry is over lock the columns.
With ExcelWorksheet 
' .Range("A1:B1").Select
.Range("A1").Value ="Prasad"
.Range("B1").Value ="Lekshmi"
.Range("A1:B1").Locked=True
.Range("A2:A10").Locked=False  
End With
ExcelWorksheet.Protect Password="1234" 
'  You just need one line to protect excel sheet from tampering.
ExcelWorkbook.Save
ExcelApp.quit  
Set ExcelApp=Nothing

Do you have comments on this tip? Let us know.
Related information from SearchDomino.com:
Dig Deeper on LotusScript