Secure your Domino apps
A recent SearchDomino.com webcast featured Notes expert Karen Fishwick. She examined various matters of Domino security.
Looking for something else?
We would like to turn your attention, if we may, to a recent SearchDomino.com webcast that featured Notes expert Karen Fishwick. Fishwick examined various matters of Domino security, certainly a pressing concern as hackers of all-ilk continue to probe corporate computer systems for nefarious fun or profit.

Download this free guide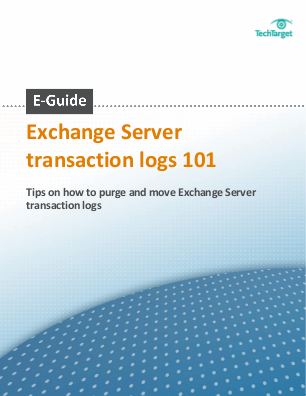 Download this strategic guide on moving Exchange Server transaction logs
Brush up on how log files have changed in Exchange to protect your setup against disaster, discover how to effectively purge transaction logs, and learn how to free up some of the disk space transaction logs have taken up on your drive.
By submitting your email address, you agree to receive emails regarding relevant topic offers from TechTarget and its partners. You can withdraw your consent at any time. Contact TechTarget at 275 Grove Street, Newton, MA.
You also agree that your personal information may be transferred and processed in the United States, and that you have read and agree to the Terms of Use and the Privacy Policy.

Fishwick told us that it is important to look at security from a top-level perspective before digging down into the nitty-gritty administrative details. This point is key because "not seeing the forest for the trees" is one of the traits hackers often rely on.
In her webcast on security issues, which can be accessed here on-demand on SearchDomino.com, Fishwick even covers issues of physical security and the capabilities in Domino that support it. Laptop systems are becoming the rule rather than the exception, and lost laptops are too common an occurrence for administrators not to be sure to exercise local database encryption methods, and to make best use of ACL across system replicas.
Renewing certificates, password recovery, Web browser authentication and more are considered in this on-demand webcast.
Take the time to review important principals of security as presented by Fishwick, and keep an eye out for some excerpts from Fishwick's recent book, Lotus Notes and Domino 6 System Administrator Exam, that will soon appear on our site.
Dig Deeper on Lotus Notes Domino Antispam Software and Spam Filtering