Shortening a document URL
Looking for something else?

Download this free guide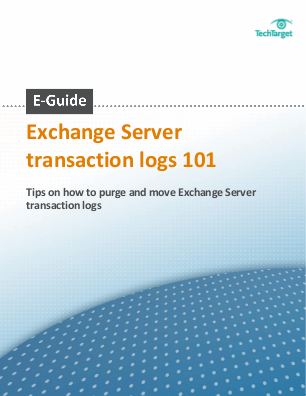 Download this strategic guide on moving Exchange Server transaction logs
Brush up on how log files have changed in Exchange to protect your setup against disaster, discover how to effectively purge transaction logs, and learn how to free up some of the disk space transaction logs have taken up on your drive.
By submitting your email address, you agree to receive emails regarding relevant topic offers from TechTarget and its partners. You can withdraw your consent at any time. Contact TechTarget at 275 Grove Street, Newton, MA.
You also agree that your personal information may be transferred and processed in the United States, and that you have read and agree to the Terms of Use and the Privacy Policy.

For web-based workflow applications, the best way to send a user a link to a document is simply to include the document's URL in an email message. Most email software displays URLs as links that, when clicked, automatically load the target page in the user's web browser. When using this method, keep the URL short to avoid line wrapping problems. TIP: You can shorten a document URL by using a short view name instead of a 32-character view ID, and using a short key value (such as a Note ID or unique keyword) instead of the document unique ID. It is important to note that in a round-robin DNS environment, the Note ID will not always work. A few more interesting ways to shorten the URL: If the database name is long or in a subdirectory, use the 16-digit replica ID Use a view name of 0 Use a directory mapping that is very short, for example, /mailkey/* mapping to /workflow/mail/main.nsf/keyview Leave off the ?OpenDocument To order the book Advanced Domino 5 Web Programming visit http://www.osborne.com/lotus/adv_domino5_webprog.htm.

Dig Deeper on Lotus Notes Domino Application Development