Manage
Learn to apply best practices and optimize your operations.
Simple error trapping class for LotusScript
I wrote this class to simplify and standardize our error trapping/handling procedures in LS code.
Looking for something else?
I wrote this class to simplify and standardize our error trapping/handling procedures in LS code. The class has 3 public subs:
(1) SendToErrorsDB,
(2) LogToMail, and
(3) LogToAgentLog.


Download this free guide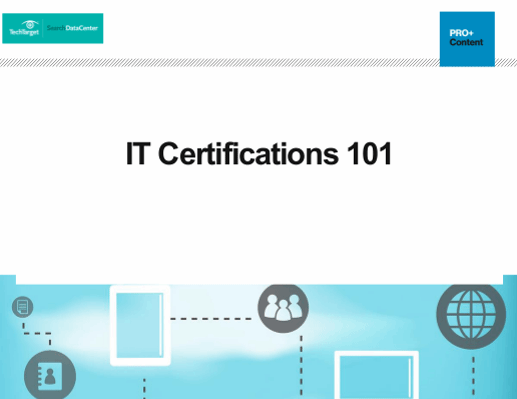 Download: IT certifications that stand out
Are you looking to advance your career? Expand your knowledge? Boost your credibility? Our editors put together this complimentary 19-page guide on everything you need to know about obtaining an IT certification—with special attention given to cloud and desktop certifications.
By submitting your personal information, you agree that TechTarget and its partners may contact you regarding relevant content, products and special offers.
You also agree that your personal information may be transferred and processed in the United States, and that you have read and agree to the Terms of Use and the Privacy Policy.
To make use of the class, put it in your error handling code -- something like:

sub main()
	On Error goto errorHandler
	Dim snafu as RunTimeError

	code, code, code . . .
	exit sub

errorHandler:
	Set snafu = New RunTimeError(Err, Error, Erl, "main subroutine", True, True)
	Msgbox snafu.ErrorMessage & ".", , snafu.MbTitle
	Call snafu.SendToErrorsDB
	Call snafu.LogToMail
	Delete snafu
	exit sub
End sub

Additional Notes:
(1) You can allow the constructor to show the error message OR suppress it and show it yourself (as above).
(2) To use the SendToErrorsDB sub, you'll need to set up a mail-in database with an "Error Record" form containing these fields:

    DateEncountered,
    SourceServer,
    SourceDBTitle,
    SourceDBPath,
    SourceDBRepID,
    DesignElement,
    ErrorNum,
    ErrorDesc,
    ErrorLine, and
    IsUIError.

The name for the mail-in database needs be recorded in the ERRORS_DB_NAME constant in the SendToErrorsDB sub for it to work (if you don't want to use a mail-in database, just don't call this subroutine).
(3) The class allows you to indicate the context (ie, UI or backend) in which the error occurred. See the constructor for details.
Happy error-trapping! dgg Code starts here: the code is too long to fit entirely in the code section below:

Public Class RunTimeError
'//	IMPORTANT NOTE:
'//	In the event of an error encountered within a public method of 
this class, the class falls
'//	back on the sendLog sub.
	
	Private errSession As NotesSession
	Private sourceDb As NotesDatabase
	Private errNo As Long
	Private line As Integer
	Private isUIError As Integer
	Private className As String
	Private serverName As String
	Private dbName As String
	Private dbPath As String
	Private fullMsg As String
	Private desc As String
	Private codeElement As String

	
	Sub New(errNum As Variant, errMsg As String, lineNum As Integer, 
designElement As String, isUI As Integer, suppress As Integer)
'//////////////////////////////////////////////////////////////////////

'//		AUTHOR:
'//		Dallas Gimpel		
'//		
'//		DATE OF CREATION:
'//		12/18/2001
'//		
'//		DESCRIPTION:
'//		This is the class constructor for the "RunTimeError" class.
'//		
'//		INPUT:
'//		errNum = variant, the number of the error encountered (Err)
'//		errMsg = string, the text associated with the error 
encountered (Error)
'//		lineNum = integer, line at which the error was encountered (Erl)
'//		designElement = string, design element in which the error 
was encountered
'//		isUI = integer (boolean), flag indicating that the error 
was encountered in the UI
'//		
'//		OUTPUT:
'//		n/a

code continues below

'//////////////////////////////////////////////////////////////////////

		
		On Error Goto errorHandler
		Const CLASS_NAME$ = """RunTimeError"" class"
		Const CODE_ELEMENT$ = """New"" subroutine (class constructor)"
		Const LSI_THREAD_CALLPROC% = 10
		
		Set Me.errSession = New NotesSession
		Set Me.sourceDb = Me.errSession.CurrentDatabase
		Stop
		Me.className$ = CLASS_NAME
		Me.serverName$ = sourceDb.Server
		Me.dbName$ = sourceDb.Title
		Me.dbPath$ = sourceDb.FilePath
		Me.errNo& = Clng(errNum)
		Me.line% = lineNum%
		Me.isUIError% = isUI%
		Me.desc$ = errMsg$
		Me.codeElement$ = designElement$
		
'//		This is just a precaution (in the event that we are passed 
an inaccurate argument).
		If Me.errSession.IsOnServer Then Me.isUIError% = False
		
'//		If we get an empty string for the designElement argument, 
use the source of the call.
		If Me.codeElement$ = "" Then
			Me.codeElement$ = Getthreadinfo(LSI_THREAD_CALLPROC)
		End If
		
		Me.fullMsg$ = "Error " & Me.errNo & " (" & Me.desc$ & ") at 
line " & Me.line% & " of " & Me.codeElement$
		
		If Me.isUIError% Then
			If Not(suppress%) Then
				Msgbox Me.fullMsg$ & ".", , Me.MbTitle$
			End If
		End If
		Print Me.fullMsg$ & " ! ! !"
		Exit Sub
		
errorHandler:
		If Me.isUIError% Then
			Msgbox "Error " & Err & " (" & Error & ") at line " & 
Erl & " of " & Me.className$ & " / " & CODE_ELEMENT & " called from " & 
Getthreadinfo(LSI_THREAD_CALLPROC) & ".", , "Error encountered . . ."
		Else
			Print "Error " & Err & " (" & Error & ") at line " & 
Erl & " of " & Me.className$ & " / " & CODE_ELEMENT & " called from " &
 Getthreadinfo(LSI_THREAD_CALLPROC) & "."
		End If
		Stop
'//		If we get an error in the class, we want to report the 
original error & the class error.
		Call Me.sendLog("ORIGINAL: " & Me.desc$, Me.line%, 
Me.codeElement$)
		Call Me.sendLog("Error " & Err & " (" & Error$ & ")", Erl, 
Me.className$ & " / " & CODE_ELEMENT & " called from " & 
Getthreadinfo(LSI_THREAD_CALLPROC))
		End
	End Sub
	
	Public Property Get ErrorMessage As String
		ErrorMessage$ = Me.fullMsg$
	End Property
	
	Public Property Get MbTitle As String
		MbTitle$ = "Error encountered . . ."
	End Property
	
'//	**** PUBLIC SUBS & FUNCTIONS ****	
	Public Sub SendToErrorsDB
'//////////////////////////////////////////////////////////////////////

'//		AUTHOR:
'//		Dallas Gimpel		
'//		
'//		DATE OF CREATION:
'//		12/18/2001
'//		
'//		DESCRIPTION:
'//		This public subroutine records error information in a Notes 
document.  When all data is
'//		recorded, the resulting document is sent to a mail-in 
database (as defined by the 
'//		"ERRORS_DB_NAME" constant) where it can be scrutinized.
'//		
'//		INPUT:
'//		none
'//		
'//		OUTPUT:
'//		none
'//////////////////////////////////////////////////////////////////////

		
		On Error Goto errorHandler
		Const CODE_ELEMENT$ = "SendToErrorsDB subroutine"
		Const ERRORS_DB_NAME$ = "Lotus Notes Errors db" '// name 
specified in mail-in document
		Const LSI_THREAD_CALLPROC% = 10
		Dim errDoc As NotesDocument
		Dim srcDbRepID As String
		
		Set errDoc = New NotesDocument(Me.sourceDb)
		srcDbRepID$ = Me.sourceDb.ReplicaID
		srcDbRepID$ = Left(srcDbRepID$, Len(srcDbRepID$) / 2) & 
Chr(58) & Right(srcDbRepID$, Len(srcDbRepID$) / 2)
		
		Call errDoc.ReplaceItemValue("Form", "Error Record")
		Call errDoc.ReplaceItemValue("SendTo", ERRORS_DB_NAME)
		Call errDoc.ReplaceItemValue("DateEncountered", errDoc.Created)
		Call errDoc.ReplaceItemValue("SourceServer", Me.serverName$)
		Call errDoc.ReplaceItemValue("SourceDBTitle", Me.dbName$)
		Call errDoc.ReplaceItemValue("SourceDBPath", Me.dbPath$)
		Call errDoc.ReplaceItemValue("SourceDBRepID", srcDbRepID$)
		Call errDoc.ReplaceItemValue("DesignElement", Me.codeElement$)
		Call errDoc.ReplaceItemValue("ErrorNum", Me.errNo&)
		Call errDoc.ReplaceItemValue("ErrorDesc", Me.desc$)
		Call errDoc.ReplaceItemValue("ErrorLine", Me.line%)
		If Me.isUIError% Then
			Call errDoc.ReplaceItemValue("IsUIError", "1")
		Else
			Call errDoc.ReplaceItemValue("IsUIError", "0")
		End If
		Call errDoc.Send(False)
		Exit Sub
		
errorHandler:
		If Me.isUIError% Then
			Msgbox "Error " & Err & " (" & Error & ") at line " & 
Erl & " of " & Me.className$ & " / " & CODE_ELEMENT & " called from " & 
Getthreadinfo(LSI_THREAD_CALLPROC) & ".", , "Error encountered . . ."
		Else
			Print "Error " & Err & " (" & Error & ") at line " & 
Erl & " of " & Me.className$ & " / " & CODE_ELEMENT & " called from " & 
Getthreadinfo(LSI_THREAD_CALLPROC) & "."
		End If
		Stop
'//		If we get an error in the class, we want to report the 
original error & the class error.
		Call Me.sendLog("ORIGINAL: " & Me.desc$, Me.line%, Me.codeElement$)
		Call Me.sendLog("Error " & Err & " (" & Error$ & ")", Erl, 
 Me.className$ & " / " & CODE_ELEMENT & " called from " & 
Getthreadinfo(LSI_THREAD_CALLPROC))
		End
	End Sub
	
	
	Public Sub LogToMail
'//////////////////////////////////////////////////////////////////////

'//		AUTHOR:
'//		Dallas Gimpel		
'//		
'//		DATE OF CREATION:
'//		12/18/2001
'//		
'//		DESCRIPTION:
'//		This public subroutine uses the NotesLog class to report an 
error to designated personnel
'//		via email notification.
'//		
'//		INPUT:
'//		none
'//		
'//		OUTPUT:
'//		none
'//////////////////////////////////////////////////////////////////////
	
		
		On Error Goto errorHandler
		Const CODE_ELEMENT$ = """LogToMail"" subroutine"
		Const LSI_THREAD_CALLPROC% = 10
		Dim nLog As NotesLog
		Dim sendTo As Variant
		
		Set nLog = New NotesLog(Me.dbName$ & ": " & Me.codeElement$)
		
		sendTo = getRecipients(Me.errSession) '// NOTE: the 
"getRecipients" function is in this script library
		Call nLog.OpenMailLog(sendTo, Me.dbName$ & ": Error log for 
" & Me.codeElement$ & " . . .")
		Call nLog.LogError(Me.errNo&, Me.desc$ & " encountered at 
line " & Me.line% & " of " & Me.codeElement$)
		Call nLog.Close '// causes Notes log to be sent
		Exit Sub
		
errorHandler:
		If Me.isUIError% Then
			Msgbox "Error " & Err & " (" & Error & ") at line " & 
Erl & " of " & Me.className$ & " / " & CODE_ELEMENT & " called from " & 
Getthreadinfo(LSI_THREAD_CALLPROC) & ".", , "Error encountered . . ."
		Else
			Print "Error " & Err & " (" & Error & ") at line " & 
Erl & " of " & Me.className$ & " / " & CODE_ELEMENT & " called from " &
 Getthreadinfo(LSI_THREAD_CALLPROC) & "."
		End If
		Stop
'//		If we get an error in the class, we want to report the 
original error & the class error.
		Call Me.sendLog("ORIGINAL: " & Me.desc$, Me.line%, Me.codeElement$)
		Call Me.sendLog("Error " & Err & " (" & Error$ & ")", Erl, 
Me.className$ & " / " & CODE_ELEMENT & " called from " & 
Getthreadinfo(LSI_THREAD_CALLPROC))
		End
	End Sub
	
	
	Public Sub LogToAgentLog(agentLog As NotesLog, logPath As String)
'//////////////////////////////////////////////////////////////////////

'//		AUTHOR:
'//		Dallas Gimpel		
'//		
'//		DATE OF CREATION:
'//		12/18/2001
'//		
'//		DESCRIPTION:
'//		This public subroutine uses the NotesLog class to record a 
given error to an AgentLog
'// 		Notes database (ie, a database whose design is based on 
StdR4AgentLog template).  The
'//		subroutine can be called using "Nothing" for the agentLog 
parameter in which case it
'//		will try to access the agent log by way of the path 
parameter.  If the sub is called
'//		with "Nothing" for the first parameter and an empty string 
for the second, it exits.
'//		
'//		INPUT:
'//		agentLog = NotesLog instance (or nothing), Noteslog 
database to which error is logged
'//		logPath = string, path to the Agentlog database in which 
the error should be recorded
'//		
'//		OUTPUT:
'//		none
'//////////////////////////////////////////////////////////////////////

		
		On Error Goto errorHandler
		Const CODE_ELEMENT$ = """LogToAgentLog"" subroutine"
		Const LSI_THREAD_CALLPROC% = 10
		
		If agentLog Is Nothing Then
			If logPath$ = "" Then
				Exit Sub
			Else
				Set agentLog = New NotesLog(Me.serverName$ & 
"!!" & Me.dbPath$ & " (" & Me.dbName$ & " - " & Me.codeElement$ & ")")
			End If			
		End If		
		
		If Me.IsUIError% Then
			Call agentLog.OpenNotesLog(Me.serverName$, logPath$)
		Else			
			Call agentLog.OpenNotesLog("", logPath$)
		End If
		agentLog.LogActions = True
		agentLog.LogErrors = True
		
		Call agentLog.LogError(Me.errNo&, Me.desc$ & " at line " & 
Me.line% & " of " & Me.codeElement$)
		Exit Sub
		
errorHandler:
		If Me.isUIError% Then
			Msgbox "Error " & Err & " (" & Error & ") at line " & 
Erl & " of " & Me.className$ & " / " & CODE_ELEMENT & " called from " & 
Getthreadinfo(LSI_THREAD_CALLPROC) & ".", , "Error encountered . . ."
		Else
			Print "Error " & Err & " (" & Error & ") at line " & 
Erl & " of " & Me.className$ & " / " & CODE_ELEMENT & " called from " & 
Getthreadinfo(LSI_THREAD_CALLPROC) & "."
		End If
		Stop
'//		If we get an error in the class, we want to report the 
original error & the class error.
		Call Me.sendLog("ORIGINAL: " & Me.desc$, Me.line%, 
Me.codeElement$)
		Call Me.sendLog("Error " & Err & " (" & Error$ & ")", Erl, 
Me.className$ & " / " & CODE_ELEMENT & " called from " & 
Getthreadinfo(LSI_THREAD_CALLPROC))
		End		
	End Sub

	Private Sub sendLog(msg As String, lineNum As Integer, 
codeElement As String)
'//////////////////////////////////////////////////////////////////////

'//		AUTHOR:
'//		Dallas Gimpel		
'//	
'//		DATE OF CREATION:
'//		09/14/2001 - Dallas Gimpel
'//	
'//		DESCRIPTION:
'//		This subroutine sends a Notes log with the text of the 
given error, the line number
'//		at which the error was encountered, and the design (code) 
element in which the error
'//		was encountered.
'//	
'//		INPUT:
'//		msg = String (text of the error message in question)
'//		lineNum = Integer (line number at which the error occurred)
'//		codeElement = String (the "code element" in which the error occurred)
'//
'//		OUTPUT:
'//		none
	
		Const LSI_THREAD_CALLPROC% = 10
		Dim logSession As NotesSession
		Dim nLog As NotesLog
		Dim dbTitle As String
		Dim sendTo As Variant
	
		Set logSession = New NotesSession
		dbTitle$ = logSession.CurrentDatabase.Title
	
		If codeElement$ = "" Then
			codeElement$ = Getthreadinfo(LSI_THREAD_CALLPROC)
		End If
		
		sendTo = "Notes Developers" '// OR use a function to 
determine recipients -> getRecipients(logSession) 
		Call nLog.OpenMailLog(sendTo, dbTitle$ & ": Error log for " 
& codeElement$ & " . . .")
		Call nLog.LogAction(msg$ & " encountered at line " & 
lineNum% & " in " & codeElement$)
		Call nLog.Close
	End Sub
End Class
		

Dig Deeper on Domino Resources - Part 5